Stephen Joins Godís Army
by John Morris

Stephen Joins God's Army --- A Letter to Private Stephen

G'day Stephen, congratulations on joining God's army. The Cox's River parade ground was a bit rough but the location was ideal, the day was a delight and there was a lot of support.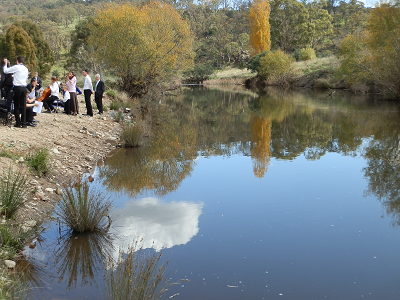 "And there was war in heaven: Michael and his angels fought against the dragon and his angels and prevailed not; neither was their place found anymore in heaven. And the great dragon was cast out. That old serpent called the Devil, and Satan, which deceiveth the whole world: he was cast out into the earth, and his angels were cast out with him."
This is how the war got underway and it is still going. The current position is stated in verse 17 of the same chapter, "And the dragon was wroth with the woman, and went to make war with the remnant of her seed which keep the commandments of God and have the testimony of Jesus."
Life is not meant to be easy, nor is the battle for the faint-hearted. A little earlier in the chapter we note that the devil is described as having come down to the earth having great wrath. Peter picks up a similar thread in his first letter to the churches of Asia Minor (1 Peter 5:8) "Be sober, be vigilant: because your adversary the devil, as a roaring lion, walketh about, seeking whom he may devour". You have enlisted in God's army. Prepare for your part in the battle.
God does not leave you to fight the battles that will assuredly come, by yourself.
Jesus has been through a much more intense skirmish than will come to you and as a result has put a limit on what the devil can do to you. Hebrews 2:18 gives great comfort where it points out that Jesus has been through the problems that would otherwise be impossible for us to survive, giving him the qualifications to jump to our defence. In the last couple of verses of Matthew 11 (with a different but quite appropriate metaphor from the agricultural setting of the time) he invites us to put on his yoke, with rest for the burdened and overloaded.
In a letter that Pastor Paul wrote to the church members at Ephesus detailing the enemy characteristics, he made it quite clear who and what we are up against.
"For we wrestle not against flesh and blood, but against principalities, against powers, against the rulers of the darkness of this world, against spiritual wickedness in high places". This is a warning worth noting, and worth your asking "is there anything that we can do to defend ourselves in the conflict?" The answer is a resounding "YES".

1. God provides Personal Protective Equipment.
"Put God's armour on so that you will be able to resist the devil's tacticsÖyou must rely on God's armour or you will not be able to put up any resistance when the worst happens."
"So stand your ground with truth buckled around your waist, and integrity for a breastplate, wearing for shoes on your feet the eagerness to spread the gospel of peace and always carrying the shield of faith so that you can use it to put out the burning arrows of the evil one. And then you must accept salvation from God to be your helmet and receive the word of God from the spirit as a sword." Ephesians 6:13-17. (1) From the typical uniform of a Roman soldier, Paul creates a spiritual equivalent to let us know there are personal defenses available. In this same chapter Paul repeats twice the encouragement for the armour wearer. Verse 11, "Put on the whole armour of God that ye may be able to stand" and in verse 3, "and having done all, to stand".

2. Avoid the enemy
Put simply, do not go anywhere where the devil is active. In the developed countries we may not find much in a direct way that shows the devil at work, In third world countries evil practices are readily seen. But the master technician that he is, the devil suits his tactics to the audience, subtle when required, open and attacking where appropriate. Soothsayers, fortune tellers, psychics, horoscopes, are all part of the armoury. Remember this text "To the law and to the testimonies: if they speak not according to this word, it is because there is no light in them." Isaiah 8:20. Store those words in your grey matter.
Light is made of the devil in developed countries. Dressed in a red uniform, with a barbed tail, pitchfork in hand and a generally mischievous look about him, the devil is treated as a joke, a cartoon character, nothing more. The movie industry has made billions from this character, and much more from feature films with evil as the plot component. Stay away from them.

3. Remember the dead.
Don't get trapped on this one - remember the dead are just that - dead and buried. Death is a sleep, there is no body, soul or whatever, floating somewhere in heaven or the universe. There is no contact available with our departed love ones. The so called ability to talk with the dead is another deception that can trap you into believing what the devil caught Eve out on, in the Garden of Eden - You shall not surely die!
Israel's King Saul showed his total abandonment of God when he went to the Witch of Endor to call up Samuel from the grave to provide battle advice. The form of the prophet was created by the devil, Samuel "slept" in the grave not knowing anything of what was going on.
Put another text into those memory cells "For the living know that they will die, but the dead know not anything, neither have they anymore a reward; for the memory of them is forgotten." Ecclesiastes 9:5

4. Keep in touch with the commander.
Pastor Paul, after advising of the armour available to the members of God's army, continued his advice: "Praying always with all prayer and supplication in the Spirit, and watching thereunto with all perseverance and supplication for all saints." Eph 6:18. Prayer is the "Royal telephoneÖthe telephone to glory" (2); it is the way to keep in touch with heaven. Jesus gave us an example of "Prayer for Dummies" with what we call The Lord's prayer. He was contrasting this model prayer with the repetitive nature of heathen prayers. May be he was thinking about prayer wheels or prayer flags seen in some communities. He also warned against drawing attention to yourself with religion and prayers as a means of public adulation. Get into a private place for interface between you and your God. Just in case you are wondering how Jesus would react to Daniel's 3 times a day prayers, remember Daniel was willing to face the lion's den rather than change his prayer routine.
And don't forget to read God's instructions and battle plan. Another reference for the memory cells is 2 Timothy3: 16, 17; "All scripture is given by inspiration of God, and is profitable for doctrine, for reproof, for correction, for instruction in righteousness: That the man of God may be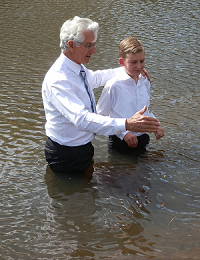 Finally,
You won't get to heaven on another's shirt-tails. We can help but we make mistakes, may even get sidetracked and in the end it boils down to what you will do. Let me refer you to Pastor Paul again - another reference worth keeping, "I press toward the mark for the prize of the high calling of God in Christ Jesus." Keep at it! Become one of the young men that John wrote to and recorded in 1 John 2:14; "I have written to you, young men, because you are strong, and the word of God abideth within you, and ye have overcome the evil one". You've made a good start. Keep at it, become a diligent soldier, an overcomer in God's army and like Paul you will be able to say "I have fought a good fight, I have finished my course, I have kept the faith"
References
(1) The Jerusalem Bible Readers Edition, Dooubleday & Company Inc New York 1968
(2) Frederick M Lehman 1919

This article and the pictures it contains are Copyright © 2012 by John L Morris. Used by permission.
Copyright © 2018 Thornleigh Seventh-day Adventist Church