Recipe - Preserved Lemons
by Erica Green

NOTE: Print this Page for easy reference when cooking.

Preserved lemons are a quintessential ingredients in Moroccan cooking. You can buy them in jars from specialty stores, but here is how to make them for yourself.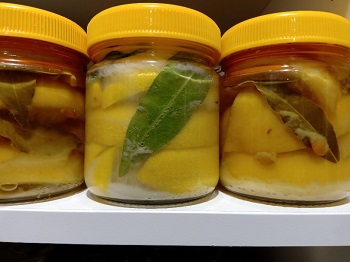 Ingredients
Makes 2 medium sized jars
6 medium sized lemons (extra for juice to top up the jars if required)
1/2 cup salt
6 fresh bay leaves
Method
Wash and dry 2x 300ml-400ml glass jars. Choose jars that have a plastic or at the very least a plastic-lined lid.
Wash and dry lemons to remove any surface dirt.
Cut lemons into quarters and rub ½ of the salt over the cut edges.
Stack and push lemons into the jars, cut side down, squeezing out the juice as you go. Add a few bay leaves into the jars as you go. Pack the lemons in as firmly as you can.
Sprinkle the remaining salt over the top of the jars and add extra lemon juice, if required, to completely cover the lemons.
Seal the jars and turn a few times to ensure that the salt is dispersed.
Place in a cool, dark place for at least 6 weeks. They should reasonably last for 12 months if unopened.
Once opened, store in the refrigerator.
To use, remove a lemon from brine and rinse under cold running water. Cut away the flesh and use only the rind.
About the Recipe
This recipe is suitable for vegetarians and vegans.
Jars with metal lids are not suitable for this recipe because they will corrode because of the salt and the acid from the lemons.
You don't have to be too precious about removing the lemon seeds, as you are only going to use the lemon rind anyway.
Don't be overly concerned about the large amount of salt. It is only used as a preservative and is washed off prior to using.
You could leave out the bay leaves altogether if you like, or add other spices to the jar such as:- Peppercorns, Cardamom pods, or Cinnamon quills
Copyright © 2020 Thornleigh Seventh-day Adventist Church