Recipe - Carrot and Coriander Soup
by Erica Green

NOTE: Print this Page for easy reference when cooking.

When those winter winds start to blow, who can resist a hearty warm bowl of soup accompanied by a slice of fresh bread?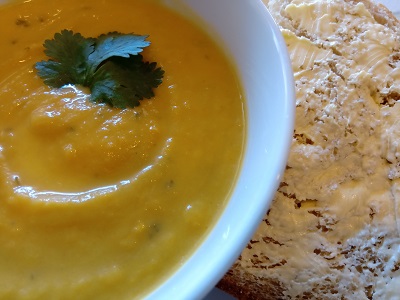 Ingredients
Serves 4
3 Tbsp. margarine
3 leeks, roughly chopped
500g carrots, roughly chopped
1 Tbsp. ground coriander
1/2 bunch coriander stems, roughly chopped
5 cups chicken flavoured stock or water and stock powder.
1/2 bunch fresh coriander leaves, roughly chopped
Salt to taste
Method
Melt margarine in a large pan. Add the leeks and carrots stir well. Cover and cook for 10 minutes.
Stir in ground coriander and coriander stems. Cook for about 1 min.
Pour in the stock. Bring to the boil, cover and simmer for about 20min, or until the leeks and carrots are tender.
Add the remaining coriander leaves and simmer for another 2 minutes.
Puree the soup with a stick blender until very smooth. Taste and add salt as required.
Ladle soup into bowls.

About the Recipe
This recipe is suitable for vegetarians and if you choose a dairy free margarine is also suitable for vegans.
Massel make a range of vegan stocks and stock powders which are flavoured to be similar to chicken or beef stock. You can also get low salt varieties if that is an issue for you. They are a staple item in my pantry.
Leeks need to be split longways and washed well before cooking, as the layer harbour little bits of grit. Use the white part of the leek as the green leaves are quite tough.
If the carrots are well washed, there is no need to peel them, as they will be blitzed up in the blending process anyway. There is a double benefit here. You will save time and you will be adding extra nutrition to the bowl.
Don't ever discard the coriander stems. The stems have a huge amount of flavour to impart in the cooking process. In this recipe, coriander leaves are added at the end of the cook, because they will not stand up to as much heat as the stems.
This recipe can be frozen. Cool the soup before putting into the freezer in plastic containers. You can freeze the soup in individual serve size zip lock bags, which will make for quick re-heating for one.
Copyright © 2020 Thornleigh Seventh-day Adventist Church