Recipe - Lentil Soup with Lemon and Chilli
by Erica Green

NOTE: Print this Page for easy reference when cooking.

This recipe has so many of my favourite ingredients. It might sound a little weird, adding lemon juice to lentil soup, but trust me it works.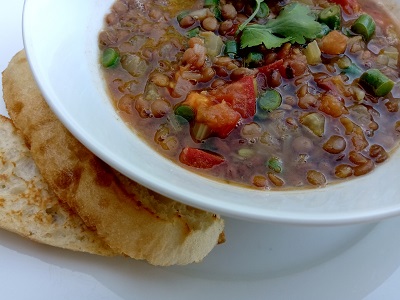 Ingredients
Serves 4
2 Tbsp. Oil
1 large onion, finely chopped
1 stick celery, finely chopped
1/4 cup finely chopped coriander stems
1 Tsp. ground coriander
1 Tsp. ground cumin
1/4 - 1/2 Tsp. dried chilli flakes
1 cup dried whole green lentils
4 cups water
2 Tsp. chicken flavoured stock powder
1/2 to 1 Tsp. salt (to taste)
2 ripe tomatoes, chopped
200g green beans, topped, tailed and finely chopped (pea size)
Zest 1 lemon
Juice 1/2 lemon (about 1 Tbsp.)
Directions
In a saucepan, sauté the onion, celery and coriander stems in oil until they are soft. Add the spices and stir through briefly until they become fragrant.
Add the dried lentils and the water to the pan. Cover and once boiling turn down and simmer for 30-40 minutes or until the lentils are almost cooked.
Add the stock powder, salt, tomatoes and green beans. Simmer for another 10 minutes until they are just cooked.
Add lemon zest and juice just before serving.

About the Recipe
This recipe is suitable for vegetarians and vegans
Massel make a range of vegan stocks and stock powders which are flavoured to be similar to chicken or beef stock. You can also get low salt varieties if that is an issue for you. They are a staple item in my pantry.
It is important not to add salt or lemon juice in the early state of cooking lentils as it will toughen them and will prevent the lentils from softening as they cook. So don't be tempted to add the stock powder or the salt earlier on, thinking that it will impart more flavour through the lentils.
I know that some people don't like fresh coriander. I don't understand why personally, as I love it, but I understand that it is a thing. Just replace the coriander stems with parsley stems, or leave it out altogether.
You could substitute green beans with grated carrot, or brown lentils for the green lentils, however, be aware that brown lentils should take a little less time to cook. You can of course use fresh red chilli in place of the dried flakes.
Copyright © 2020 Thornleigh Seventh-day Adventist Church