#blacklivesmatter
Pastor's Piece, by Mark Baines
Our attention in the past week has suddenly turned from Covid-19 to issues of race and police brutality because of George Floyd's death and the resulting protests. What happened to George and so many other African Americans throughout America's racist history is tragic, wrong and preventable. Australia's history is smeared with racism and injustice as well. The recurring slogan promoting the move to acknowledge and change this systemic racism is #blacklivesmatter.
A lot of 'white' people are uncomfortable with this slogan. After all they say, don't all lives matter? They do. But to say so at this time is offensive to people of colour. Perhaps we can understand this when looking at the parable Jesus shared with those who didn't like him eating with 'sinners'. Jesus described how a shepherd had 100 sheep, but after 1 got lost, he leaves the 99 in search of the 1. This cartoon makes the application to today clearly: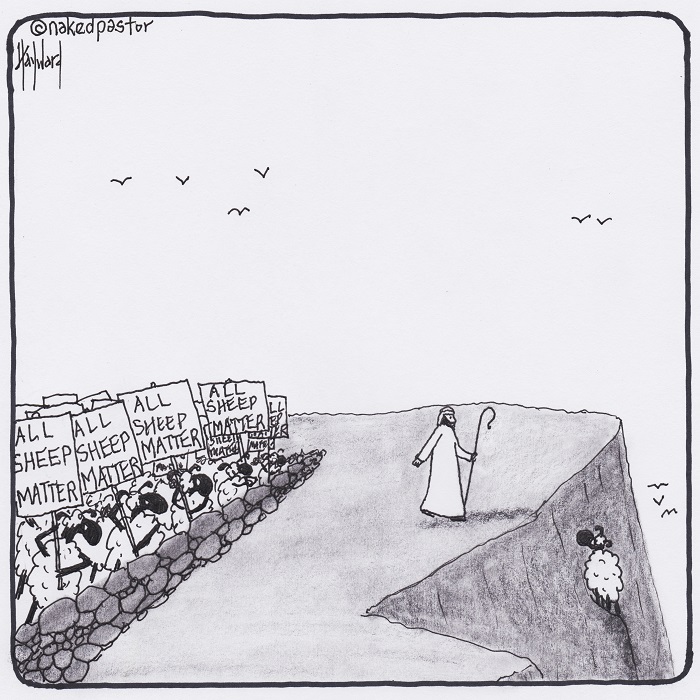 Cartoon by David Hayward, used by permission under license.
I'm a privileged middle-class white Australian male. I cannot relate to the experience of African Americans or Indigenous Australians or other people of colour (the worst I have to endure at the moment are occasional bald jokes). But I can follow the example of Jesus and find ways to help those in trouble, starting by putting my prejudice aside and listening and learning from them. And then in order to bring about change - I can speak up and making change where I can. Watching on the news and not doing anything is not going to help. God's people - the church - should be doing helping. Some church people think this is mixing politics and religion. I think it's obeying Jesus' command to love and fight injustice.
What do you think?
What will you do?
Copyright © 2020 Thornleigh Seventh-day Adventist Church