Ploughman's (Beetroot and Cheddar) Salad
by Erica Green

NOTE: Print this Page for easy reference when cooking.

The classic ploughman's lunch is synonymous with British pubs, consisting largely of bread, cheese, and assorted accompaniments such as pickled vegetables or relish, served rustic style on a wooden board.
This recipe pays homage to the ploughman's lunch, reinterpreted as a salad. I hope that you like it.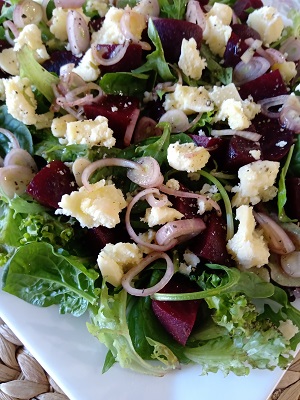 Ingredients
Serves 4
1 shallot, finely sliced
1 Tbsp. red wine vinegar
1 Tbsp. extra virgin olive oil
1 Tsp. sugar
1/4 Tsp. salt
A few turns of freshly ground pepper
120g bag salad leaf mix
250g vacuum pack cooked beetroot
125g crumbly sharp vintage cheddar
Method
Mix together the shallot, vinegar, olive oil, sugar, salt and pepper. Allow to macerate for 5-10 minutes.
Drain the oil and vinegar off the shallots, and use it to dress the lettuce leaves. Spread the dressed salad leaf mix onto a flat serving plate.
Pat the beetroot dry with a paper towel to minimise bleeding. Cut into chunks. And scatter over the lettuce mix.
Crumble the cheese and scatter the shallots over the top of the lettuce mix and beetroot.

About the Recipe
This recipe is suitable for vegetarians. It can be modified to be suitable for vegans by substituting vegan cheddar for standard cheese. "The alternative Dairy Company" brand do quite a good range of cheeses. At the moment they are available in IGA stores.
Just in case you were wondering, to "macerate" just means to soften while soaking in liquid. This just takes the harshness out of the shallot. Steeping the shallot in the vinegar etc.. is basically creating a quick pickle.
If you don't have shallots you could use ˝ a red onion, but you may need to let it sit and pickle for a little longer and the flavours will be stronger than a shallot.
Vacuum packed beetroot are readily available in the fruit & vegetable department of most supermarkets. Of course you could cook your own beetroot, but be prepared, it is a messy business.
I have used red wine vinegar but you can substitute apple cider, or white wine vinegar if that is what you have in your pantry. However, I would not use balsamic for this recipe as the flavour is a bit too strong.
The "Mersey Valley" brand is a lovely sharp crumbly cheddar that well suites this dish.
Copyright © 2020 Thornleigh Seventh-day Adventist Church