Recipe - Spanish Style Potatoes and Chickpeas
(Los Papas con Garbanzos) by Erica Green

NOTE: Print this Page for easy reference when cooking.

My mother worked with a lovely Spanish lady, who introduced her to potatoes and chickpeas, done the Spanish way. You might wonder what is so special about potatoes and chickpeas, but the extra ingredients really make this very tasty. It can be served as a side dish, or to be honest, I am happy to make it my lunch, just as it is.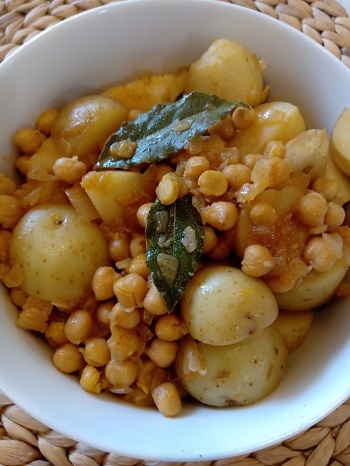 Ingredients:
Serves 4
1/4 cup light olive oil
1 onion, finely chopped
1-2 Tsp. crushed garlic
1 Tsp. smoked or sweet paprika
1/8 Tsp ground chilli or hot paprika
2 fresh bay leaves
500g new/baby/chat potatoes, quartered (no need to peel)
100 ml water + extra if needed
2 Tsp. chicken flavoured stock powder
1 x 400g can chickpeas, drained and rinsed or 1 1/2 cups cooked chickpeas
Salt to taste
Method
In a lidded pan, sauté onion, garlic, paprika, chilli and bay leaves for a few minutes until onions are transparent.
Add the potatoes, water and stock powder. Cover and simmer for 15-20 min or until the potatoes are almost cooked. Top up with water if needed.
Add chickpeas and heat through until the sauce is the consistency that you want.
Adjust salt to taste.

About the Recipe
This recipe is suitable for vegetarians and vegans.
Massel make a range of vegan stocks and stock powders which are flavoured to be similar to chicken or beef stock. You can also get low salt varieties if that is an issue for you. They are a staple item in my pantry.
You really want to keep the water to a minimum in this dish, so don't go adding extra unless you absolutely have to. The finished result is almost like a very light gravy coating.
Smoked paprika is best, but if you can't get it, sweet paprika will do just fine.
This recipe calls for canned chickpeas. You can of course cook your own, but good quality canned chickpeas are so readily available that I don't usually bother. Just make sure that the brand that you buy has been pre-soaked otherwise they tend to be hard.
Leftovers re-heat in the microwave quite well, and make a yummy packed lunch.
My mum used to originally cook this dish in a pressure cooker, using dried chickpeas, but pressure cookers scare the life out of me, so I have modified the recipe to cater for my own neuroses.
Copyright © 2020 Thornleigh Seventh-day Adventist Church