Recipe - Green Salad with Eggs
by Erica Green

NOTE: Print this Page for easy reference when cooking.
This salad just shouts out that spring is here with the focus on fresh asparagus, peas and tarragon.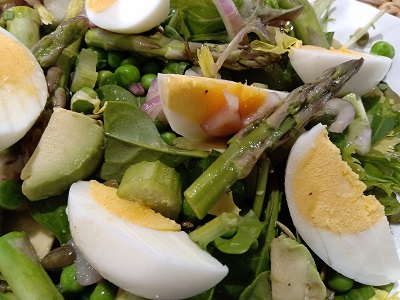 Ingredients
Serves 4-6
4 eggs
3 Tbsp. olive oil
1 Tsp. Dijon mustard
1 Tbsp. apple cider vinegar
1 Tsp. honey
salt and pepper to taste
1 shallot, thinly sliced
1 bunch of fresh asparagus, cut into 2cm lengths
1 cup frozen baby peas
2 x 120g Bag of salad leaf mix
3 celery stalks, cut into slices
1 avocado, peeled and cut into chunks
1 Tbsp. finely chopped fresh tarragon
1 Tbsp. pumpkin seeds
Instructions
Hard boil and peel the eggs. Cut each eggs into 6 wedges. Set aside for later.
In a screw top jar, combine the oil, mustard, vinegar, honey, salt and pepper. Screw the lid on and shake to combine.
Place the sliced shallots into the dressing to slightly marinate/pickle while you are assembling the salad.
Blanch the asparagus and the frozen peas in boiling water for a few minutes. Refresh in ice cold water and set aside.
On a large salad platter, assemble the salad leaves, asparagus, peas, celery, avocado, tarragon, pumpkin seeds, shallots and eggs.
Drizzle over with the dressing just before serving.

About the Recipe
This recipe is suitable for vegetarians and can easily be modified to be vegan friendly by omitting the eggs and replace the honey in the dressing with sugar.
Frozen peas are generally blanched before they are frozen and so take not time at all to cook. You don't want grey mushy peas so only blanch them briefly.
I find that frozen baby peas are sweeter and so I have used them in this recipe in preference to standard frozen peas.
If asparagus is not in season, then green beans is a great substitute. You can also swap out the celery for cucumber, if that is what you have.
This recipe is good as a lunch box filler, just keep the dressing in a separate container and dress just before eating.
You can substitute spring onions for the shallots and other herbs if you don't have tarragon.
Copyright © 2020 Thornleigh Seventh-day Adventist Church