Recipe - Spanish Orange Salad
by Erica Green

NOTE: Print this Page for easy reference when cooking.
I really like incorporating fruit into a salad as I find is quite refreshing. This recipe is inspired by Spanish flavours, and highlights the sweet freshness of oranges.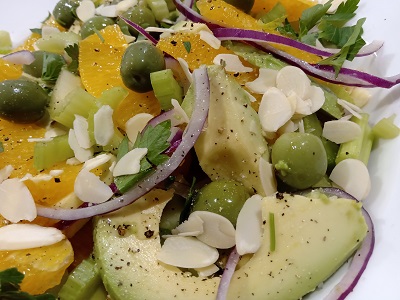 Ingredients
Serves 4
4 oranges
1/4 red onion, finely sliced
1 Tbsp. chopped flat leaf parsley
3 sticks celery, chopped
1 avocado, peeled and sliced
1 Tbsp. flaked almonds
12 green olives
1 Tbsp. olive oil
salt and pepper to taste
Instructions
Supreme the oranges and place into a large salad bowl or platter.
Top with onion, parsley, celery, avocado, almonds and olives.
Drizzle over with olive oil and season with salt and pepper.

About the Recipe
This recipe is suitable for vegetarians and vegans
What does it mean to supreme an orange? It is basically a technique of cutting the orange into segments so as to remover the white pith and the membranes between the segments. Google it, there are plenty of video posts to show you how to do it.
You don't really need a complicated dressing for this salad, as the juice in the orange mixes with the oil to create a dressing.
You can bolster this salad up by piling the salad on a base of mixed salad leaves. You may need to sprinkle over a little more olive oil and maybe some extra orange juice from the process of segmenting the oranges.
Copyright © 2020 Thornleigh Seventh-day Adventist Church