Recipe - One Pot Meat Balls Pasta and Vegies
by Erica Green

NOTE: Print this Page for easy reference when cooking.

I love "one-pot wonder" recipes, they feature regularly for week night meals in our house. By design, they are generally of the "comfort food" variety, and they come with the added bonus of only one pot to wash up.
This one-pot offering is Italian inspired, and has been boosted up with a few extra vegetables.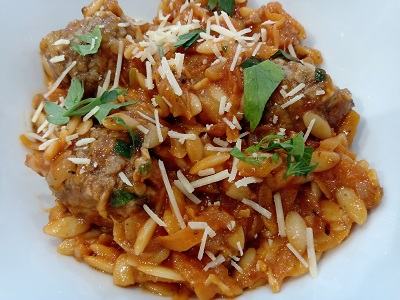 Ingredients
Serves 4
1 onion, finely chopped
2 carrots, peeled and grated
2 small zucchini, grated
2 Tsp garlic paste
2 Tbps. oil
1 Tsp. dried oregano
1/2 Tsp. salt
1/4 Tsp. freshly ground pepper
1 1/2 cups water
2 Tsp. Massel chicken flavoured stock powder
500g Passata
1/2 cup Risoni pasta
1 x 360g bag frozen Gardein meatless meat balls (12) or other plant based "meat" balls
1/2 cup grated parmesan cheese
2 Tbsp. chopped parsley
Method
In a large pan, sauté the onion, carrots, zucchinis, and garlic in oil, until soft.
Add the oregano, salt, pepper, water, stock powder and passata. Bring to the boil. Add the risoni, cover and simmer, stirring occasionally, for 15-20 minutes or until the pasta is almost cooked.
Add the frozen meatballs and simmer for a further 5 minutes or until the balls are heated through.
Serve, sprinkled with parmesan and parsley

About the Recipe
This recipe is suitable for vegetarians and is easily modified to be vegan friendly by omitting the parmesan cheese as a garnish or replacing it with a vegan cheese.
Massel make a range of vegan stocks and stock powders which are flavoured to be similar to chicken or beef stock. You can also get low salt varieties if that is an issue for you. They are a staple item in my pantry.
Passata is a tomato purée that has been strained of seeds and skins. It has a different consistency to bottled or fresh pasta sauce, and so I would discourage you from using pasta sauce as a direct substitute as it would throw out the moisture balance of this recipe.
If you don't have risoni pasta, other very small pasta shapes like stelline is a good alternative.
Be careful with the plant based meat balls that you choose for this recipe. Some brands disintegrate very easily, so choose a brand that is firm. I have found the Gardein brand (available at Woolworths and selected health food stores) to work quite well. I think that it is the soy protein the gluten which hold the balls together.
If you have any leftovers, this recipe reheats well in the microwave, and so works quite well to take to work for lunch the next day.
Copyright © 2020 Thornleigh Seventh-day Adventist Church