Recipe - Red and Green Vegan Paella
by Erica Green

NOTE: Print this Page for easy reference when cooking.
I love "one-pot wonder" recipes, they feature regularly for week night meals in our house. By design, they are generally of the "comfort food" variety, and they come with the added bonus of only one pot to wash up.
Paella would have to be the most famous Spanish dish, which by plan just happens to be a "one-pot wonder". It generally consists of short grain rice, vegetables, seafood, meat and saffron. This recipe is a vegan version, which retains the lovely fat grains of rice, the slightly caramelised bottom and is loaded with green vegetables.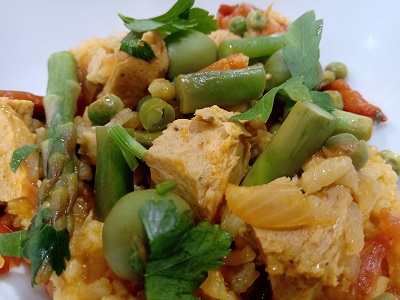 Ingredients
Serves 4-6
2 cups hot water
50mg pinch dried saffron threads
2 Tsp. chicken flavoured stock powder
2 Tbsp. olive oil
1 onion, finely chopped
2 cloves garlic, crushed
1 Tsp. dried smoked paprika
1/2 Tsp dried chili flakes
2 small tomatoes, chopped
1/2 Tsp. salt
1 cup Arborio rice
200-250g vegan plant based chicken alternative
1 Bunch (about 12 spears) asparagus, chopped into 2 cm lengths
12 green beans. Topped, tailed and cut into 2cm lengths
1/2 cup frozen peas
1/2 cup bottles roasted red pepper strips
2 Tbsp. chopped flat leaf parsley
12 green olives (optional)
Instructions
Combine water, stock powder and saffron thread and set aside for the saffron to infuse in the water.
In a lidded large pan, sauté the onions and garlic in the oil until softened.
Add the smoky paprika, chili flakes, and chopped tomatoes and stir through.
Stir the rice through the mixture until the grains are coated.
Add the water, stock powder and saffron mix, together with the vegan "chicken".
Bring to the boil and once simmering, cover and turn down the heat to medium.
From here on do not stir.
Allow to simmer gently for 20 minutes. Scatter the green beans over the top and cover for another 10 minutes. Then scatter the peas, asparagus and roasted peppers over the top. Cover and simmer for another 20 minutes.
By now most of the moisture should have been absorbed by the rice, but you will need another 5 minutes or so, to allow for the socarrat (slight crust) to form on the bottom. Take off the lid and turn the heat up. Be vigilant now, as there is a fine line between slightly caramelised and burnt.
Garnish with chopped parsley and green olives

About the Recipe
This recipe is suitable for vegetarians and vegans.
Massel make a range of vegan stocks and stock powders which are flavoured to be similar to chicken or beef stock. You can also get low salt varieties if that is an issue for you. They are a staple item in my pantry.
There is an ever increasing presence of vegan plant based meat alternatives in the supermarkets these days. For this recipe I used the Tofurkey brand plant based "Chick'n". It is currently available in Woolworths and specialist health food stores. There are other alternative plant based chicken substitutes.
Socarrat is the slightly caramelised crust that forms on the bottom layer of a paella pan.
Paella is traditionally made with a short grain rice variety such as Bomba, but Arborio is a close approximation and is more available at your local supermarket.
You can buy a traditional paella pan, which is large and flat, but you can get by with any large pan.
Saffron threads are what gives this rice the typical yellow colour, however, it is quite expensive. You can substitute turmeric if you don't have any saffron threads in your pantry.
Copyright © 2020 Thornleigh Seventh-day Adventist Church