Recipe - Chickpea, Green Bean and Spinach Curry
by Erica Green

NOTE: Print this Page for easy reference when cooking.

Eating out as a vegetarian is never a problem at an Indian restaurant. You can always count on there being a good selection of vegetarian and vegan meals to choose from.
Here is a recipe that I like to make and eat at home. The chickpeas are lovely and creamy, the beans are slightly crunchy and the sauce is rich and spicy.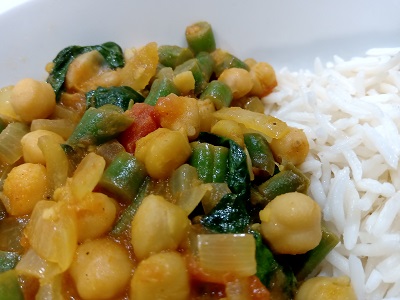 Ingredients
Serves 4-6
2 medium onions, chopped
2 Tbsp. light oil
1 Tbsp. garlic paste
1 Tbsp. ginger paste
1 Tsp. ground cumin
1 Tsp. ground coriander
1 Tsp ground turmeric
1/4 Tsp. ground chilies
1/4 Tsp. garam masala
1/2 cup water
1/2 Tsp. Chicken flavoured stock powder
1x400g can chopped tomatoes
2x 400g cans chickpeas, drained
375g green beans, chopped
1/2 Tsp. sugar
1 Tsp. salt or to taste
120g baby spinach
Serve with rice or chapattis
Method
In a large lidded pan, sauté the onions in the oil unto almost transparent.
Stir through the garlic and ginger paste. Add the spices and let them cook through just until you start to smell them, then add the water and the stock powder.
Add the chopped tomatoes, chick peas and green beans. Cover and cook until the beans are just cooked.
Season with the sugar and salt.
Stir through the spinach leaves and allow it to wilt a little just before serving.
Serve with rice of chapattis.

About the Recipe
This recipe is suitable for vegetarians and vegans.
Massel make a range of vegan stocks and stock powders which are flavoured to be similar to chicken or beef stock. You can also get low salt varieties if that is an issue for you. They are a staple item in my pantry.
This recipe calls for canned chickpeas. You can of course cook your own, but good quality canned chickpeas are so readily available that I don't usually bother. Just make sure that the brand that you buy has been pre-soaked otherwise they may tend to be hard.
Garam masala is an Indian spice blend, typically containing:- cinnamon, cloves, and cardamom amongst other spices.
Just a pinch of sugar will go some way to downplaying the acidity of the tomatoes.
If you prefer a richer creamy curry, just add some coconut cream at the end of the cooking process.
Don't forget, curry is always better then next day, so make a double batch, just hold back the spinach to put in just before serving.
Copyright © 2021 Thornleigh Seventh-day Adventist Church