Recipe - Creamy Cashew and Veggie Korma
by Erica Green

NOTE: Print this Page for easy reference when cooking.

Curries are always a good choice for vegan friendly food. Often coconut cream is an ingredient that is used in vegan curries, but in this case the creaminess comes from cashews.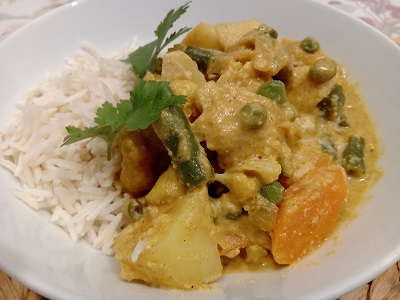 Ingredients
Serves 4-6
1 cup raw cashews
1/2 cup boiling water
1 Tbsp. oil
2 small or 1 large onion, finely chopped
1/2 cup korma curry paste
2 cups water
2 Tsp. chicken flavoured stock powder (Massel)
400g waxy potatoes, peeled and cut into 2cm pieces
400g cauliflower, cut into small florets
400g carrots, peeled and cut into 2cm pieces
1/2 cup green beans, chopped into 2cm pieces
1/2 cup frozen peas
salt to taste
rice to serve
coriander to garnish
Method
Cover the cashews with the boiling water and set aside.
In a large lidded saucepan, sauté onions in oil over medium heat until soft.
Add curry paste and stir through for 1 minute.
Add water, stock powder, potatoes, cauliflower and carrots. Cover and bring to the boil. Reduce heat and simmer for 20 minutes.
Add beans and peas and simmer for another 5 minutes or until the veggies are almost soft.
Meanwhile process cashews and water in a small food processor until creamy. Keep processing until it is very creamy without graininess. You may need to scrape the sides down a few times.
Stir the cashew cream into curry. Cover and simmer, for another few minutes or until vegetables are tender and the cashew cream is well amalgamated.
Taste and add salt if needed.
Serve with rice and garnish with coriander.

About the Recipe
This recipe is suitable for vegetarians and vegans.
Massel make a range of vegan stocks and stock powders which are flavoured to be similar to chicken or beef stock. You can also get low salt varieties if that is an issue for you. They are a staple item in my pantry.
Curry pastes are readily available in the international aisle of most supermarkets these days. Not to be confused with simmer sauces, which are quite a different thing. I used the "Patak" brand korma curry paste, but use what you like.
Switch up the veggies based on what you have. Divide them up into ones that cook quicker and those that cook slower. Eg: Quick cooking broccoli, slower cooking parsnip.
In this recipe I have recommend using waxy potatoes, so that they don't disintegrate into the gravy as they cook. This would include Australian varieties such as: Desiree; Pink Eye; Dutch Cream.
Copyright © 2021 Thornleigh Seventh-day Adventist Church