Recipe - Hearty Lentil & Veggie Soup with Barley
by Erica Green

NOTE: Print this Page for easy reference when cooking.

Nothing overcomes the cold of winter like the comfort of a thick barley soup. Make a big pot and keep the left overs in the fridge to enjoy for lunch the next day.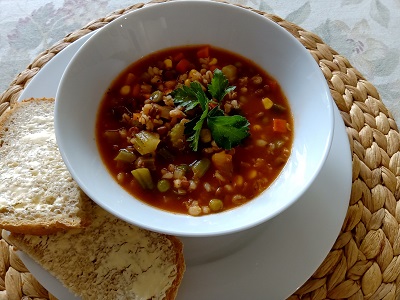 Ingredients
Serves 8-12
1 cup pearl barley
1 cup boiling water
2 Tbsp. oil
1 onion, chopped
3 sticks celery - chopped
2 bay leaves
4 stalks of thyme
500-600g frozen mixed veggies (carrots, peas, corn and beans)
2 1/2 Ltrs. water
2 Tsp. chicken flavoured stock (Massel)
1 x 420g can condensed tomato soup
2 x 415g cans savoury lentils
salt and pepper to taste
parsley leaves to garnish.
Method
Soak barley in water for a few hours, preferably overnight if possible.
Sauté onions and celery in oil until transparent. Add bay leaves and thyme.
Add frozen vegetables, water, stock powder, tomato soup and barley. Bring to the boil, turn down and simmer until the vegetables and barley are cooked (about 30 minutes). Stir occasionally to ensure that the barley does not stick to the bottom.
Add the savoury lentil and heat through.
Turn off the heat and let sit for 10 minutes or so. The barley will continue to expand and absorb the liquid.
Adjust the seasoning with salt and pepper to taste.
Pick out the bay leaves and thyme stems before serving.
Garnish with cracked pepper and a few parsley leaves.

About the Recipe
This recipe is suitable for vegetarians and vegans
Pearl barley, is a whole grain barley that has been processed to remove some of the outer husk. Traditionally it is used in soups, but can also be used in a barley risotto or in grain based salads.
Massel make a range of vegan stocks and stock powders which are flavoured to be similar to chicken or beef stock. You can also get low salt varieties if that is an issue for you. They are a staple item in my pantry.
Savoury lentils, under the Vegie Delight brand, can be found in many health food stores and some of the major supermarkets, usually in the health food aisle. These brown lentils have been cooked in a spiced tomato and onion sauce. (Savoury Lentils - vegiedelights.com.au) If you can't source this product, don't worry, substitute standard canned brown lentils, just drain them before you add them to the soup.
Substitute the vegetables in this recipe as you please. Of course use fresh if you have the time to prepare them. Mushrooms and lentils are also good companions. Sauté the mushrooms with the onion and celery to get in as much flavour from browning the mushrooms.
I don't bother to pick the leaves off the thyme stems as it is such a fiddly task. The leaves will drop off the stems as you cook the soup, and you can then easily pick the stems out.
When re-heating you may need to add a little more water, as the barley will continue to absorb the liquid from the soup.
Copyright © 2021 Thornleigh Seventh-day Adventist Church