Recipe - Veggie Chowder Style Soup
by Erica Green

NOTE: Print this Page for easy reference when cooking.

When you hear the term chowder, the first thing that comes to mind is seafood chowder, but that does not have to be the case. Really the term chowder refers to a chunky soup that is made with milk or cream. So here is a vegetarian/vegan version for you to try.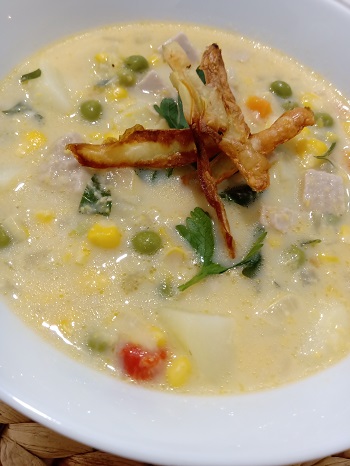 Ingredients
Serves 6-8
1 onion, peeled and chopped
2 sticks of celery, finely chopped
½ red capsicum. finely chopped
1 Tsp. garlic paste
1 Tbsp. olive oil
1 Tbsp. butter or vegan alternative margarine
3 cups mixed frozen veg (Eg: corn, peas, carrot)
500g potatoes, scrubbed, peeled and cut into small cubes, reserve peels.
1 Ltr water
2 Tsp. chicken flavoured stock powder
½ Tsp salt
2 bay leaves
Rice bran or Olive oil spray
¼ Tsp. salt
1 x 420g can corn kernels, drained
2 Tsp. plain flour
1 cup milk or vegan alternative 1 cup almond milk
1 x 415g can Nutolene, chopped into small cubes
2 Tbsp. chopped parsley (Extra for garnish if you want)

Method
Preheat the oven to 200C Fan Forced or 220C standard.
In a saucepan, sauté the onions, celery, capsicum, and garlic in the oil and butter/margarine until soft. Add the frozen vegetables, potatoes, water, stock powder, salt and bay leaves to the pan. Cover and bring to the boil. Simmer for 10 minutes or until the vegetables are soft.
Meanwhile, place the potato peelings on a lined baking tray. Spray with oil and sprinkle with salt. Bake at 200C for 10 minutes or until crisp.
Place the drained corn kernels into a small food process and blitz until creamy and smooth. Add to the pan.
Mix the milk into the flour. Adding a little bit at a time. Add to the saucepan and mix through.
Add the Nutolene and parsley and heat through. Don't stir too vigorously as Nutolene is quite fragile.
Serve garnished with potato peel chips.
About the Recipe
This recipe is suitable for vegetarians and has alternative ingredients to make it vegan friendly. I think that the almond milk version is just as nice as the milk version.
Massel make a range of vegan stocks and stock powders which are flavoured to be similar to chicken or beef stock. You can also get low salt varieties if that is an issue for you. They are a staple item in my pantry.
"Nutolene" is a vegan product that is a little bit like tofu in texture but is made from peanuts. It is in a can and is made principally from peanuts, water and salt. Coles supermarkets and heal food stores stock the product. There is a trick to getting the product out of the can so that you can slice or chop the product nicely. Here are some tips from the Vegie Delights internet site. "Opening Instructions. 1) Open can on the end without the ring pull using a can opener. 2) Loosen the Nutolene by running a table knife around the inside of the can between the can body and the Nutolene. 3) Open the ring pull lid on the opposite end. 4) Carefully push the Nutolene through the can from the ring pull end." (I use the discarded ring pull lid to push it through) -- https://www.vegiedelights.com.au/products/nutolene/
You can substitute a can of creamed corn for the corn kernels but you may need to add a little less water as the blitzed corn kernels are much thicker.
If you are reheating this soup you may need to add a touch of extra water as it thickens as it cools. You will also need to be gentle as the Nutolene can break up quite easily.
Copyright © 2021 Thornleigh Seventh-day Adventist Church