Recipe - Thai Chilli Brown Rice
by Erica Green

NOTE: Print this Page for easy reference when cooking.

This recipe is a real "go to" for week-night meals. It is quick to prepare and is made mostly from ingredients that are regulars in the pantry, fridge and freezer.
For those of you who may not be fans of brown rice, I encourage you to give this recipe a try. My husband says that he hates brown rice, but goes back for seconds of this dish.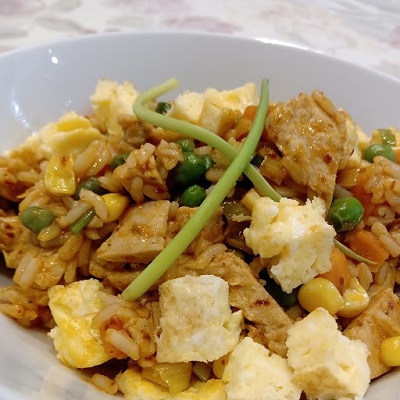 Ingredients
Serves 3-4
4 eggs
1 Tsp. rice bran oil
2 cups frozen mixed vegetables (peas, corn, carrots, beans etc.)
1/2 cup water
1/2 bunch spring onions, chopped
1 Tbsp. rice bran oil
1-2 Tbsp. Thai chilli jam stir fry paste (Ayam)
1 Tsp Chicken flavoured stock powder (Massel)
250g bag precooked brown rice
200-300g plant based chicken pieces
Salt to taste
Method
Whisk the eggs with a fork. Heat 1 Tsp. oil in a small pan. Add eggs and stir gently to make a thin omelette. When just cooked, remove from the pan and chop into small pieces. Set aside for later use.
Place the vegetables and the water in a microwave safe dish. Cover and microwave on high for 4-6 minutes or until the vegetables are just cooked. Set aside, undrained, for later use.
Save a few of the spring onion greens for garnish. Lightly sauté the remaining spring onions in 1 Tbsp. oil.
Add chilli jam, vegetables and cooking liquid, stock powder, cooked brown rice and the plant based chicken pieces to the pan. Stir through and cook until everything is heated through.
Add salt to taste and garnish with spring onion greens.

About the Recipe
This recipe is suitable for vegetarians and is easily modified to be vegan friendly by omitting the egg or replacing it with tofu.
There is an ever increasing presence of vegan plant based meat alternatives in the supermarkets these days. For this recipe I used the Tofurkey brand plant based Chick'n.
Some brands of Thai curry pastes are not vegetarian/vegan friendly so read the labels first. The "Ayam" brand is suitable for vegans
Adjust the amount of chilli paste according to you own personal taste. You may like to dial it down a little for kids, but I am personally happy with the 2 Tbsp. amount.
You can or course use brown rice that you have cooked from scratch, but in the interest of quick weeknight dinners I have used precooked rice.
You could also use whatever fresh veggies you like rather than frozen, but again, in the interest of quick weeknight dinners I have used frozen.
I quite like replacing the frozen mixed veggies with green beans cut into pea size pieces.
I have used a neutral oil for this recipe. They generally have a higher smoke point, and so are better for frying than some other oils like olive oil, for example. Feel free to substitute other neutral oils for rice bran oil in this recipe.
Massel make a range of vegan stocks and stock powders which are flavoured to be similar to chicken or beef stock. You can also get low salt varieties if that is an issue for you. They are a staple item in my pantry.
Copyright © 2021 Thornleigh Seventh-day Adventist Church