Recipe - Chopped Italian Salad
by Erica Green

NOTE: Print this Page for easy reference when cooking.

If you research "chopped salad" on the internet, you will find all sorts of stories about its origin, but I remember as a kid, this was the only type of salad that we ever had. Everything chopped up, with a drizzle of dressing made from sweetened condensed milk. Well we have come a little way since condensed milk dressing, but chopped salads are still good. This recipe takes on an Italian twist.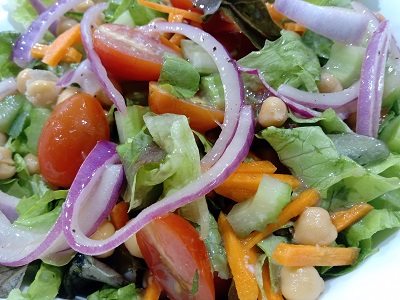 Ingredients
Serves 4
3 Tbsp. olive oil
1 Tbsp. red wine vinegar
1 Tsp. Dijon mustard
1 clove garlic, crushed
1/8 Tsp. sugar
Salt and freshly ground pepper to taste
1/2 red onion, peeled and finely sliced
1 red oak lettuce, rinsed, dried and roughly chopped
1 green red oak lettuce, rinsed, dried and roughly chopped
2 sticks of celery, chopped
300g cherry tomatoes, chopped in half
400g can chickpeas, drained
2 carrots peeled and julienned
1 Tbsp. fresh oregano leave roughly chopped.
Method
In a small screw top jar, combine the oil, vinegar, mustard, garlic, sugar, salt and pepper. Screw the lid on and shake to combine.
Pour the dressing over the sliced onions and allow to macerate for 10-15 minutes. This will slightly pickle the onions making them milder.
Meanwhile prepare the other salad ingredients, and place in a salad bowl.
Just before serving, dress the salad with the onions and salad dressing

About the Recipe
This recipe is suitable for vegetarians and vegans.
It is important to dry you lettuce leaves, otherwise the dressing will just run off the leaves.
Substitutions- If you don't have access to fresh oregano, substitute flat leaf parsley. Feel free to substitute other beans for the chickpeas. Any salad greens will be fine. It is nice to find a mixture of colours and/or textures.
Depending on how much dressing you like on your salad, you may have some left over. It will keep in the fridge for a few day.
A mandolin or V sliver will make quick work of the julienne carrots. However it come with a warning. I have a love-hate relationship with this piece of kitchen equipment, and possess the scars to show for it, so always use the guard.
Copyright © 2021 Thornleigh Seventh-day Adventist Church