Recipe - Nasi Goreng
by Erica Green

NOTE: Print this Page for easy reference when cooking.

Nasi Goreng is an Indonesian/Malaysian style fried rice. It differs mainly from a Chinese style fried rice in that it is generally spicier. It is traditionally served with a fried egg and is often accompanied by a cucumber salad.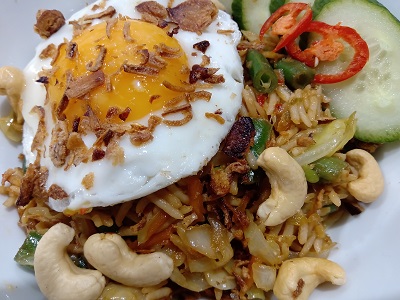 Ingredients
Serves 3-4
Paste
1 Tbsp. light oil (Eg: rice bran or peanut)
1 small onion, peeled and roughly chopped
1 long red chilli, remove seeds if too hot
1 long green chilli, remove seeds if too hot
1 Tsp. garlic paste
1 Tsp. ginger paste
Main Ingredients
1 Tbsp. light oil (Eg: rice bran or peanut)
125g carrot, peeled and grated or julienned on a mandolin.
125g cabbage, finely shredded
125g green beans, chopped into 1cm lengths
2 Tbsp. soy sauce
1 Tbsp. sweet chilli sauce
250g bag precooked basmati rice
Toppings
4 Eggs
1/2 cup cashew or peanuts, roughly chopped
2 Tbsp. crispy shallots
1 small Lebanese or ˝ continental cucumber

Method
Place all the paste ingredients in a small food processor and blitz to a paste.
In a large lidded pan, sauté the paste in the oil for a few minutes until the paste becomes aromatic.
Add the cabbage, carrot and beans. Stir through, then place the lid on the pan and let the vegetables soften for 4-5 minutes
Add the soy sauce and the sweet chilli sauce, stir through. Add the basmati rice and stir through. Set aside to warm though while you prepare the toppings.
Fry the eggs, sunny side up, leaving the yolks runny.
Plate up the rice and top each serving with an egg, sprinkles of fried shallots and chopped nuts.
About the Recipe
This recipe is suitable for vegetarians and can be easily be made vegan friendly just be leaving off the egg.
You can of course cook you own rice, or use left over rice for this dish, rather than buying precooked bags. Just be aware that the rice needs to be cooked well in advance and allowed to dry out before using for fried rice. Next day is best.
Crispy shallots are readily available in the international aisle of most supermarkets these days. You can of course make them yourself but honestly, I just could not be bothered.
Swap out the cashews and replace with peanuts if you like, which is probably more traditional, but cashews were what I had in the cupboard at the time.
"Sunny side up" eggs are fried with the yolk up and are not turned over in the pan. For this dish a slightly runny egg yolk is desirable. But hey, you do the eggs how you like them, over easy, well done, or even omelette strips.
Nasi goreng is traditionally made with Kecap manis which is a sweet soy sauce, however, I have used a mix of soy sauce and sweet chilli sauce in its place, as that was what I had in my cupboard. Feel free to go traditional on this one.
Copyright © 2021 Thornleigh Seventh-day Adventist Church