Recipe - One Pot Primavera Risoni Pasta
by Erica Green

NOTE: Print this Page for easy reference when cooking.

The term Primavera, in Italian, means spring. This pasta recipe takes on all that is fresh and light about spring vegetables, adds them to pasta and presents them risotto style. How more Italian can you get?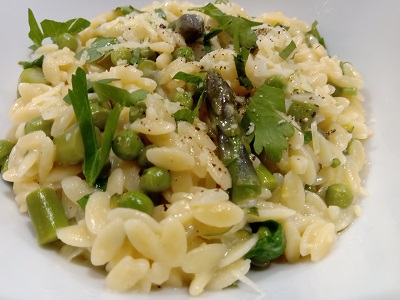 Ingredients
Serves 4-6
1 Tbsp. olive oil
1 onion, finely chopped
2 Tsp. garlic paste
2 cups risoni pasta
4 cups water
2 Tsp. chicken flavoured stock powder
1/4 Tsp salt
1 cup frozen peas
1 cup fresh asparagus spears, chopped to pea size. (Leave the tips a little longer because they look pretty)
1 cup grated zucchini
finely grated peel of one large lemon
1/4 cup chopped flat leaf parsley
1 Tbsp. butter or vegan margarine
1/2 cup grated parmesan see vegan option below
freshly ground pepper
A little extra parmesan and parsley to garnish.
Method
In a lidded pan, sauté the onions, and garlic in the oil until soft.
Add the Risoni, water, stock powder, salt. Bring to the boil, cover, turn the heat down to medium and simmer for 5 minutes. Stir occasionally to stop the pasta from sticking to the bottom.
Add the peas, asparagus and zucchini. Bring back to the boil on high heat, turn down to medium and simmer for another 5 minutes.
Turn the heat off and set aside for another 4-5 minutes. The pasta will continue to absorb the liquid.
Add the lemon peel, parsley, butter, parmesan and pepper. Stir through and serve.
Garnish with a little extra parsley and parmesan cheese.

About the Recipe
This recipe is suitable for vegetarians and is modifiably vegan friendly. You can either omit the parmesan altogether, or replace it with a vegan cheese, or nutritional yeast flakes. The yeast flakes are quite strong so I would recommend that you use a little less and taste and see what you need.
Nutritional yeast is not a form of active yeast, so it will not grow like active yeast does when you are making bread, for example. It comes in either a powder or a flake form and is mostly used for its nutritional properties and for its slightly umami cheesy flavour. You can find them in the health food aisle of major supermarkets or in health food stores.
Massel make a range of vegan stocks and stock powders which are flavoured to be similar to chicken or beef stock. You can also get low salt varieties if that is an issue for you. They are a staple item in my pantry.
Risoni is a shape of pasta that resembles grains of rice. Orzo pasta is similar, but is generally a little larger. You can substitute between these two types of pasta, but the orzo will need a little longer cooking time.
The tips of the asparagus are the most tender part of the spears. As you work your way to the base they can become quite woody. If you bend the spear, it will naturally break at the point where the woody part meets the tender part. Discard the base of the spear at that point.
Substitute or add other spring/green veggies. Eg: Broccoli florets, twice peeled small broad beans.
A nice alternative to parsley in this dish could be mint, or even tarragon or dill.
Copyright © 2021 Thornleigh Seventh-day Adventist Church