Recipe - Brussel Sprout Slaw
by Erica Green

NOTE: Print this Page for easy reference when cooking.

I will admit to not being a huge fan of brussel sprouts that have been boiled to within an inch of their greying life, and I suspect that I may have plenty of company in this opinion. Brussel sprouts in a salad, however, is quite another thing. Here is one of my favourites.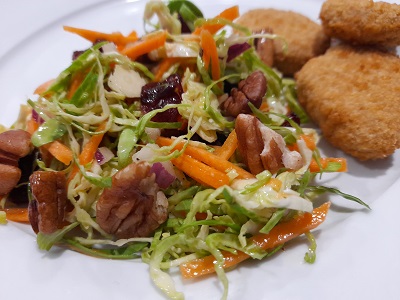 Ingredients
Serves 8
Dressing
1/2 cup light olive oil
1 Tbsp. apple cider vinegar
1 Tsp. Dijon mustard
1/2 Tsp. sugar
1/2 red onion or 1 shallot, finely chopped
Salt and pepper to taste
Slaw
300g baby brussel sprouts, thinly sliced
2 carrots, peeled and cut into julienne strips
3/4 cup dried cranberries
3/4 cup pecans, very roughly chopped
Method
Place the dressing ingredients in a small screw top jar. Screw on the lid and shake well to combine. The dressing can be made ahead of time.
Just before you are ready to serve, mix the dressing with the slaw ingredients and serve.

About the Recipe
This recipe is suitable for vegetarians and vegans.
I find brussel sprouts, and particularly the baby ones, to be much sweeter, less bitter, and less tough than traditional cabbage that is used in coleslaw.
You can prepare the salad ahead of time, and just add the dressing when you are ready to serve.
You can slice whole brussel sprouts and julienne the carrots on a mandoline or v slicer. You will get lovely thin strips, but you must be careful, as they can be dangerous. I have a bit of a love hate relationship with the appliance myself, with scars to show for my disrespect of the equipment. If you don't have a mandoline, cut the sprouts in half through the stem, in order to give you a flat surface to cut with, and slice as thinly as you can.
Whilst adding great flavour, mustard also help the dressing emulsify. Oil and water are enemies, and the mustard will bond with both, thereby keeping the dressing mixed.
You could switch out the dried cranberries and use sultanas instead, if that is what you have in the pantry. Walnuts or almonds would work well in place of the pecans.
Copyright © 2021 Thornleigh Seventh-day Adventist Church