Recipe - Christmas Salad Ring
by Erica Green

NOTE: Print this Page for easy reference when cooking.

The heat of December in Australia often lends itself to a less formal shared cold food selection. These Christmas wreath salads can be altered to suite your personal taste and add nicely to the table arrangement.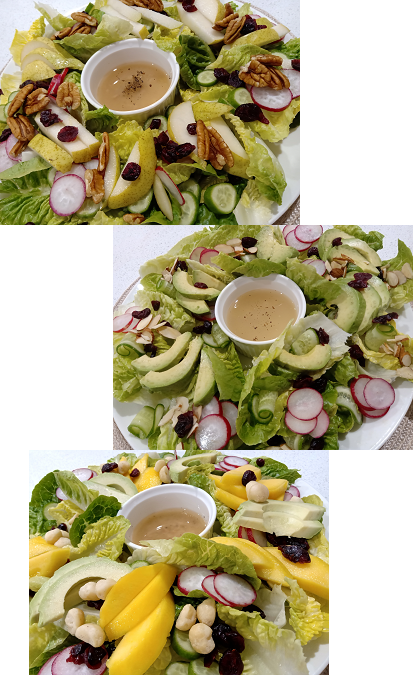 Ingredients
Serves 4-6
Base Salad
2 cos lettuce, washed and dried
4 baby cucumbers (qukes), thinly sliced into rounds
6 small red radishes, thinly slices into rounds
2 Tbsp. dried cranberries (craisins)
Salad Dressing
3 Tbsp. olive oil
1 Tbsp. apple cider vinegar
1 Tsp. Dijon mustard
pinch sugar
pinch salt and freshly ground pepper
Salad Variant One
2 green pears, sliced
2 Tbsp. pecans
Salad Variant Two
1 avocado, peeled and diced
2 Tbsp. natural flaked almonds
Salad Variant Three
1 avocado, peeled and sliced
1 mango, peeled and sliced
1/4 cup roasted macadamia nuts

Method
Tear and arrange the lettuce on a large plate in a wreath shape.
Top with cucumber, radish and cranberries.
Top with the selected variant ingredients.
Place the dressing ingredients in a small screw top jar. Screw on the lid and shake well to combine.
Either place the dressing in a small dish in the center of the salad wreath or pour over the salad.
About the Recipe
This recipe is suitable for vegetarians and vegans.
Copyright © 2021 Thornleigh Seventh-day Adventist Church