Recipe - Dukkah
by Erica Green

NOTE: Print this Page for easy reference when cooking.

Dukkah is a mix of crushed nuts, sesame seeds and spices and is of Middle Eastern origin. It is customary to serve bread to dip in olive oil and then in this nutty mix. Dukkah can also be sprinkled on hummus or baked vegetables.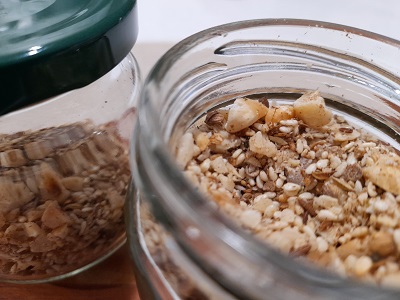 Ingredients
1/2 cup blanched hazelnuts (alternate pistachios, almond or a mix of nuts)
1 Tbsp. coriander seeds
1 Tbsp. cumin seeds
1 Tsp. fennel seeds
1/4 cup sesame seeds
1/2-1 tsp. flaked sea salt (to taste)
1/2 tsp. freshly ground black pepper
1/2 Tsp. dried mint (optional)
Method
Preheat oven to 180°C (Fan Forced)
Spread the nuts on a baking tray and bake for 5-7 minutes until lightly toasted. Place the toasted nuts in a small food processor and blitz until roughly chopped. Set aside
Place coriander, cumin, and fennel seeds in a small dry frying pan over a medium heat, stir for 1-2 minutes or until the seeds begin to pop. Cool slightly and pound the seeds in a mortar and pestle until finely crushed (alternatively, use a coffee or spice grinder or very small food processor). set aside.
Place the sesame seeds in a small dry frying pan over medium heat, stir for 1-2 minutes or until lightly brown. Set aside.
Mix the nuts, crushed spices, sesame seeds, salt, pepper, and dried mint.
Store in an airtight container.

About the Recipe
This recipe is suitable for vegetarians and vegans.
Fresh home-made Dukkah is so much nicer than the version that you buy in the supermarket. It will keep in an airtight container for a while in your fridge.
It is nice to be able to mix up the recipe with the nuts that you like and the quantities that you like.
Copyright © 2021 Thornleigh Seventh-day Adventist Church