Recipe - Green Bean Salad
by Erica Green

NOTE: Print this Page for easy reference when cooking.

Green beans are one of my favourite vegetable and I love to eat them hot, but I also like them blanched as an ingredient in a salad. In this recipe I have paired them with sweet/sour dried cranberries and almonds, which make a lovely accompaniment to a Christmas dinner.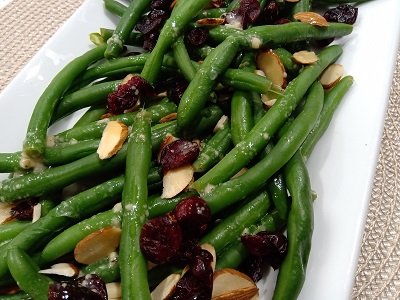 Ingredients
Serves 6
1Kg green beans, topped and tailed
1/4 cup flaked natural almonds
1/4 cup dried cranberries
2 Tbsp. olive oil
1 Tbsp. lemon juice
1 Tsp. Dijon mustard
1 small clove garlic, peeled and crushed
Pinch sugar
Salt/pepper to taste
Method
Blanch the beans in boiling water until al dente. Drain and shock in iced water. Drain and pat dry.
Place the oil, lemon juice, mustard, garlic, sugar, salt and pepper into a small screw top jar. Screw on the lid and shake vigorously to combine.
Place the beans onto a serving platter. Top with almonds and cranberries. Drizzle over the dressing and serve.
About the Recipe
This recipe is suitable vegetarians and vegans.
Copyright © 2021 Thornleigh Seventh-day Adventist Church