A Resurgence of Hope
Pastor's Piece, by Mark Baines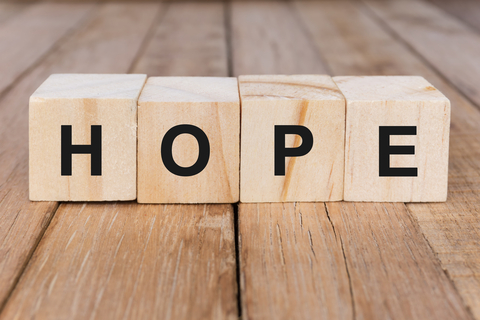 I heard a story recently that was shared by preacher Mark Finley. A little boy had been hospitalised after being badly burned. The school system in a large city developed a program to help children keep up with their schoolwork if they needed to spend extensive time in a hospital. One of the special education teachers who was assigned the program, received a routine call asking her to visit the child. Consulting the child's regular class teacher, she was asked to help the child continue to study and understand nouns and adverbs, so he didn't fall too far behind.
The hospital program teacher went to see the boy that afternoon. No one had mentioned to her that the boy had been badly burned and was in great pain. Upset at the sight of the boy, she stammered as she told him, "I've been sent by your school to help you with nouns and adverbs". When she left, she felt she hadn't accomplished much at all. But the next day, a nurse asked her "What did you do to that boy?!". The nurse felt she must have done something wrong, and began to apologise. "No, said the nurse, we've been worrying about that little boy, but ever since yesterday his attitude has changed. He's fighting back and he's responding to treatment. It's as though he's decided to live."
Two weeks later the boy explained that he had completely given up hope until the teacher arrived. Everything changed when he came to a simple realisation. He expressed it this way: "They wouldn't send a teacher to work on nouns and adverbs with a dying boy, would they?".
What this badly burned child needed more than anything else was hope.
Hope is like a candle in the darkness.
Hope motivates us to look beyond the difficulties of today to a better tomorrow.
There's been a resurgence of hate, anger, misinformation, distrust and fear of late. It's time for a resurgence of hope.
I've personally found the Bible and Jesus are great sources of hope that lasts. Jesus' life, death and resurrection give me hope. The promise of Jesus' return to this earth, to end evil and create the world anew, gives me hope. The changes I've seen in people who've turned their trust from material things to the God of love, gives me hope. If you're lacking in hope, I'd encourage you to read or re-read the New Testament books and I believe you'll discover hope that brings strength and joy. I'll leave you with some of those 2000 year old words that are still relevant today:
"I pray that God, the source of hope, will fill you completely with joy and peace because you trust in him. Then you will overflow with confident hope through the power of the Holy Spirit." Paul via Romans 15:13
Copyright © 2021 Thornleigh Seventh-day Adventist Church