Recipe - Aquafaba Mayonnaise
by Erica Green

NOTE: Print this Page for easy reference when cooking.

Chickpeas are one of my favourite legumes and as I am too lazy to cook them from scratch, I am always opening cans of chickpeas. For some time now I have heard about using the chickpea juice from the can as a substitute for egg in making mayonnaise. I must admit I was a bit sceptical. One day when I had just done some cooking with chickpeas and had some free time on my hands, I gave it a go. I played with the ingredients a bit, but the process is much like making an egg mayonnaise, with the upside that it is vegan friendly. So next time you open a can of chickpeas, give it a go.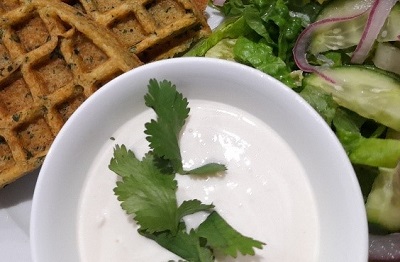 Ingredients
1/4 cup aquafaba

(liquid reserved from a can of chickpeas)
1 Tsp. Dijon mustard
1/4 Tsp. salt
2 Tsp. lemon juice
1 small clove garlic (optional)
3/4 cup light vegetable oil

Method
Place the aquafaba, mustard, salt, lemon juice and garlic into a tall beaker.
Blitz on high with a stick blender (giggle up and down) to form a foam.
Whilst the stick blender is running slowly drizzle the oil into the beaker until you get a smooth thick mayonnaise consistency.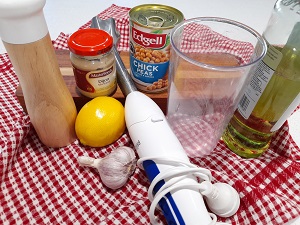 About the Recipe
This recipe is suitable for vegetarians and vegans.
Whilst this mayonnaise is suitable for vegans, it is also an excellent alternative for pregnant women or people with weakened immune systems, as it does not contain raw eggs like regular mayonnaise.
Aquafaba is the liquid by produce from cooking chickpeas. It can be used as a replacement for eggs and egg white. When you next drain a can of chickpeas save the water for this recipe.
The process is much like making fresh egg mayonnaise but replacing the egg with aquafaba. It does thicken up and look and taste much like standard egg mayonnaise, however it is much whiter because you do not get the yellow of the egg yolk.
You need a light oil for this recipe, extra virgin olive oil, for example, would not be suitable.
Copyright © 2022 Thornleigh Seventh-day Adventist Church