Recipe - Curry Puffs
by Erica Green

NOTE: Print this Page for easy reference when cooking.

This recipe is a case of classic Indian cuisine meets the latest kitchen gadget.
Pie makers were all the range a few year ago, but the latest thing now seems to be the sausage roll maker. It is basically the same as an electric toasted sandwich/jaffle iron, but the indentations are shaped like sausage rolls. (Google it, you will find that K Mart is to "go-to" store.) I personally like them better than the small pie makers, because they don't waste as much pastry in cutting out the little rounds. However, you could just as easily use a pie maker, or an old fashioned jaffle iron for that matter, for this recipe.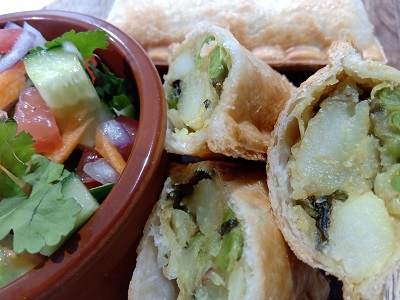 Ingredients
Serves 8
1 cup frozen peas
500g potatoes - peeled and cubed (1-1.5 cm)
1 Tbsp. canola oil
1 onion, peeled and finely chopped
1 Tsp. ground cumin
1/4 Tsp. cumin seeds
1 1/4 Tsp. ground coriander
1/4 Tsp. ground turmeric
1/4 Tsp. ground Chilli
salt to taste
2 Tbsp. chopped fresh coriander leaves
2 sheets frozen puff pastry (not butter puff)

Method
Take the peas out of the freezer and allow to partially defrost.
Meanwhile, place potatoes into a large pan of cold water, and bring to the boil. When cooked drain and set aside.
Sauté the onion in the oil until soft. Add the spices and salt and stir until aromatic.
Take the peas and roughly mash so that some are whole and some are smashed.
Combine the potatoes, peas, onions and spice mix, and coriander leaves. Set aside to cool.
Take each pasty sheets out of the freezer to soften, just before you are ready to load the sausage roll maker. Cut the pastry in half and place one sheet on the bottom of the machine. With half of the potato mixture fill the 4 indentations. You may need to push the mixture down a little. Cover with the other half of the pastry sheet and close the lid.
Cook for 16-18 min (cold iron) or 14 -16 min (already heated iron)
Repeat with other pastry sheet.
You may want to trim off any little scruffy pastry bits around the edge.
About the Recipe
This recipe is suitable for vegetarians as well as for vegans, if you select the right pastry. Butter puff, the name being a dead giveaway, is not suitable for vegans. The standard "Pampas" brand is suitable for vegans, but check out the labels for yourselves, you will find other brands.
Even if you are not a vegan, I would still not recommend butter puff for this recipe. It is just too oily and it makes such a mess of your machine.
If you don't like fresh coriander, and I know that there are some of you out there who don't, just substitute flat leaf parsley or leave it out altogether.
The puffs can be made in advance and re-heated in a low temperature oven.
Copyright © 2022 Thornleigh Seventh-day Adventist Church