Recipe - Falafel Waffle
by Erica Green

NOTE: Print this Page for easy reference when cooking.

I must admit that I have never been a huge fan of waffles, the sweet ones that is. I have always said that I like my fat with salt rather than sugar. So I guess it is no surprise that, since owning a waffle iron, I have done quite a bit of experimenting with the less traditional savoury versions. The following recipe is one of the results of that experimentation. I hope that you like this, less than traditional, version of both waffles and falafels.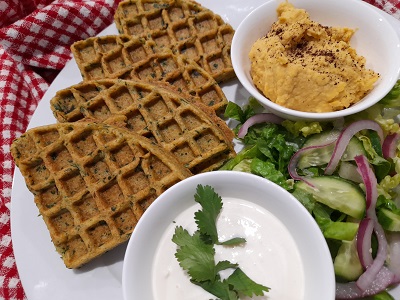 Ingredients
Serves 2
1/3 cup vegetable oil
2 Tbsp. chopped fresh coriander
2 Tbsp. chopped fresh parsley
2 Tbsp. plain flour
1 Tsp. baking powder
1 Tsp. ground cumin
1/2 Tsp. ground coriander
1/2 Tsp. salt
1/4 Tsp. cayenne pepper
1 large egg
2 cloves garlic, halved
1 x 400g tin chickpeas, drained and rinsed
Rice bran oil spray

Method
Place all ingredients, except the oil spray, in a food processor and blitz until smooth.
Preheat an electric waffle iron on medium heat and spray the surface with a little rice bran oil.
Spread 1/2 (approx 1 cup) of the mixture over the hot waffle iron, close the lid and cook until golden and crisp.
Alternate serving suggestions
Serve quarters of falafel accompanied with a chopped salad and hummus.
Place a whole waffle on the base of a plate, spread roughly with hummus, pile up with chopped salad and drizzle with a creamy dressing.
About the Recipe
This recipe is suitable for vegetarians but not for vegans as it has an egg in the mixture.
This recipe will serve 2 as a main or 4 as a starter
If you don't like fresh coriander, and I know that there are some of you out there who don't, just substitute flat leaf parsley.
If you are making a few of these, put them aside in a preheated oven (100C) to keep them warm while you are cooking the rest of the batch.
You may need to adjust the amount of mix per waffle iron depending on the size of your machine. I used a Breville Stainless Steel No Mess Waffle Maker. It is a good size for a couple rather than a family. I like the wrap around moat which catches and cooks any overflow, which is great for easy clean-up.
Copyright © 2022 Thornleigh Seventh-day Adventist Church