Book Review
Bad Girls of the Bible by Liz Curtis-Higgs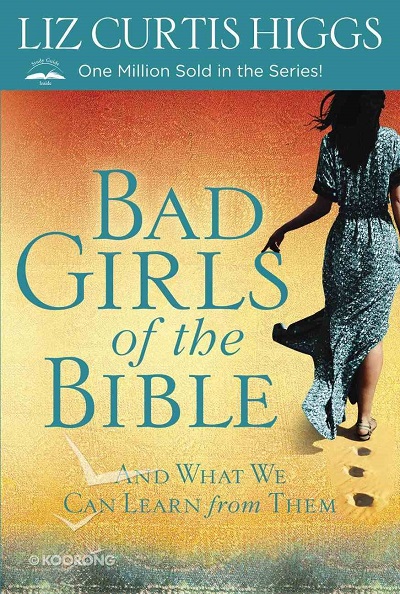 Liz Higgs in her early years made bad choices in her life and became involved in sex, drugs and the rock and roll lifestyle. In 1982 she met Christ, and her life changed. Since meeting Christ, she has authored over 30 books, she is an award-winning speaker having addressed seventeen hundred audiences worldwide.
So often when we go to the Bible, we look to the people that followed God, those that we can admire. However, this book looks at 10 women from the Bible that were bad. The book starts with the first bad girl (Eve), then it moves to 3 woman who were bad to the bone (Potiphar's wife, Delilah, and Jezebel), it then looks at 3 woman who were bad for a moment (Lot's wife, Sapphira and Michal), finally 3 woman who were bad for a season but not forever (Rahab, the Woman at the Well and the woman who anointed Jesus's feet).
Liz mentions that she is trying to reach 4 different kinds of readers with the book-
Former Bad Girls who have surrendered their lives to God and are trying to know where they fit in Gods family
Temporary Bad Girls who have grown up in the church, put aside their commitment to God, and now want to know can they be forgiven
Veteran Good Girls who want to understand other woman who have not been cradled in Christianity
Aspiring Good Girls who are asking is there more to life.
A chapter is dedicated to each of these women. Each chapter commences with a fictional story, in a modern setting, which retells the story from the Bible. Then the story from the Bible is retold verse by verse. Each verse is looked at in detail. Finally, the chapter concludes with a section asking what lessons we can learn from this bad woman. Again, in this section Bible texts are used to support the lessons to be learnt.
The book is authored by a woman, and through out the book woman reading the book are aware of issues that they may be facing being addressed. Having said this, a man could still read this book and receive a blessing from the insights of the author.
This book can simply be read by a person, it could be used by a speaker to highlight one of the women, or it can become a book that is used by a small group. After the 10 chapters reviewing each of the woman, the book then lists discussion questions to enlarge the readers thoughts on each of the woman. Lastly a study guide is presented that a small group could easily use to dig even deeper into each of the personalities.
Liz Higgs husband has a PHD in Old Testament languages. Prior to the publication of this book, he reviewed the manuscript for errors in translation, interpretation, and application. The author also states that she studied more than 50 commentaries and looked at 10 different translations of the scriptures. The New International Version of the scriptures is quoted the most throughout the book.
The author reminds us that whilst when we think of sin we think of greed, anger, idolatry or sexual sins, sin does not have to be that dramatic. Sin is also an unkind word, a whisper of gossip and a neglected request. We all at times are a bad girl. But for all of us there is forgiveness, there is redemption, there is a future with a God that loves us unconditionally, regardless of our past, regardless of our failings.
A quote from Elisabeth Elliot is recorded in the book :-
The fact that I am a woman does not make me a different type of Christian,
But the fact that I am a Christian does make me a different type of woman
Thinking of the last 3 woman mentioned in the book draw from the courage of Rahab, the humility of the woman who anointed Jesus's feet, and the curiosity of the Woman at the Well.
I encourage you to read this book and see what good news is within its pages.
Picture Credit
https://www.koorong.com/product/bad-girls-of-the-bible-liz-curtis-higgs_9780307731975
Copyright © 2022 Thornleigh Seventh-day Adventist Church