Recipe - Spinach and Ricotta Cannelloni
by Erica Green

NOTE: Print this Page for easy reference when cooking.

Cannelloni is one of the top few dishes that come to mind when you think baked Italian. I think that I even prefer cannelloni to lasagne. It is quicker to make (no faffing around with béchamel) and you still get all the comfort feelings that only baked pasta can give.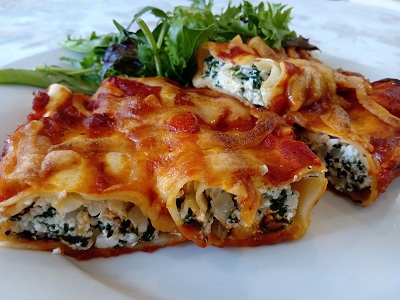 Ingredients
Serves 4 as a main or 8 as a starter
1 onion, finely chopped
2 cloves garlic, crushed
1 Tbsp. oil
150g bag baby spinach
500g fresh ricotta (not smooth ricotta)
1 cup grated low fat cheddar cheese
Pinch of nutmeg
Salt and pepper to taste
375g fresh lasagne sheets (8 sheets)
1 x 450g pots fresh tomato pasta sauce
1 x 300g can tomato supreme
1/2 cup grated cheddar, extra

Method
Preheat oven to 180°C.
Sauté onions and garlic in the oil until soft.
Microwave the spinach for 1-2 minutes or until wilted. On a chopping board, roughly chop the spinach and use a paper towel to soak up the excess liquid.
Mix together the ricotta, cheddar, nutmeg, salt, pepper, onions, garlic and spinach
Cut 1/3 off the short end of each lasagne sheets and save for some other use. Evenly distribute the spinach mixture across the short sides of each (8) lasagne sheets, and roll up.
Mix together the tomato supreme and the pasta sauce. Spread 1/3 over the base of a lasagne dish. Arrange the cannelloni tubes in a row, seam side down in the tray. Cover with the remaining tomato sauce, and sprinkle with the extra cheese.
Bake for 40 minutes or until golden. Slightly longer if you are making this in advance and the dish is cold.
About the Recipe
This recipe is suitable for vegetarians.
A note on ricotta. Fresh ricotta is not the same as the smooth ricotta that you can buy in tubs in the supermarket chiller. Smooth ricotta is much wetter than fresh. The fresh ricotta that we are needing for this recipe, comes packaged in a strainer and can be bought in the chiller section in some supermarkets and in the delicatessen section of other supermarkets.
Tomato Supreme is a canned tomato based product made by Edgell. It consists of a mix of diced tomatoes, onion, capsicum, celery and a few other ingredients. It does contain some milk products so would not be suitable for vegans. It can be found in most supermarkets next to the canned diced tomatoes. It is less acidic and quite a bit thicker than canned diced tomatoes or pasta sauce. You can of course use all pasta sauce in this recipe but I prefer the less acid taste that tomato supreme brings to the dish.
I use fresh lasagne sheets to roll the cannelloni rather than the dry tubes. Firstly, it is so much easier to roll rather than to stuff and secondly, when you get the packet of dried tubes home, it always seemed that half of them are broken. You can buy fresh cannelloni sheets, which are about 1/3 the size of the standard lasagne sheets. I find them a little bit too small.
Copyright © 2022 Thornleigh Seventh-day Adventist Church