Recipe - Moroccan Harira Soup
by Erica Green

NOTE: Print this Page for easy reference when cooking.

Soup made from a selection of vegetables, chickpeas and lentils, does not sound all that special. It is the influence of warming Moroccan spices that makes this soup distinctive.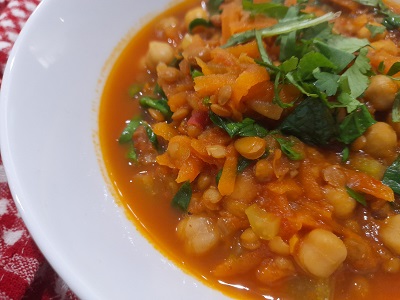 Ingredients
Serves 4
1 Tbsp. light olive oil
1 onion, finely chopped
2 carrot, peeled and grated or finely chopped
2 stick of celery, finely chopped
1 Tsp. ginger paste
1 Tsp. ground cumin
1 Tsp. ground turmeric
1/4 Tsp. ground cinnamon
1/2 Tsp. harissa paste
2 1/4 cups water
2 Tsp. chicken flavoured stock powder
400g can chopped tomatoes
400g can brown lentils, drained
400g can chickpeas, drained
Salt to taste
100g baby spinach, chopped
Fresh coriander to garnish (optional)

Method
Sauté onions, carrot, celery, and ginger paste in the olive oil until softened.
Add the cumin, turmeric, cinnamon, and harissa paste. Stir through for 30 seconds to wake the spices up.
Add the water, stock powder, chopped tomatoes, lentils and chickpeas and heat through.
Season with salt to taste and when you are ready to serve stir through the spinach.
Garnish with fresh coriander.
About the Recipe
This recipe is suitable for vegetarians and vegans.
Massel make a range of vegan stocks and stock powders which are flavoured to be similar to chicken or beef stock. You can also get low salt varieties if that is an issue for you. They are a staple item in my pantry.
Harissa paste is a common ingredient in North African and Middle Eastern cuisine. It is made from chillies and a selection of herbs and spices. Be careful though, as different brands can have quite different levels of heat.
This recipe calls for canned chickpeas. You can of course cook your own, but good quality canned chickpeas are so readily available that I don't usually bother. Just make sure that the brand that you buy has been pre-soaked otherwise they tend to be hard and no amount of cooking can soften them.
If you are reheating this soup you may need to add a touch of extra water as it thickens as it cools
Copyright © 2022 Thornleigh Seventh-day Adventist Church