Recipe - Minestrone
by Erica Green

NOTE: Print this Page for easy reference when cooking.

Minestrone is a rustic Italian soup made with vegetables, beans and pasta or rice. There are no hard and fast rules about the vegetables and beans to use. This recipe is just how I usually do it, but it can vary depending on what I have in the fridge and pantry at the time.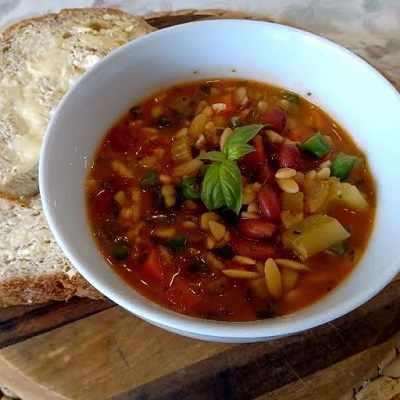 Ingredients
Serves 4-6
1 Tbsp. olive oil
1 onion, finely chopped
1 Tsp. crushed garlic
2 stick celery, chopped
2 carrots, peeled and chopped
1 x 400g can Italian diced tomatoes
1 1/2 Ltrs water
2 Tsp. chicken flavoured stock powder
1 fresh bay leaf
Pinch sugar
1/2 cup risoni pasta
2 small or 1 medium zucchini, cored and chopped
2 cups chopped green beans
1 x 400g can red kidney beans, drained rinsed
2 Tbsp. basil paste
Salt & pepper to taste

Method
In a large saucepan, lightly sauté onions and garlic, celery and carrot in the oil until the onions are transparent.
Add canned tomatoes, water, stock powder, bay leaf and a pinch of sugar. Bring to the boil for 15 minutes.
Add the pasta, zucchini and green beans. Simmer for another 15 min or until the pasta is cooked. You may need to stir it a few times to ensure that the pasta does not stick to the bottom of the pan.
Add the red kidney beans and the basil paste.
Heat through and serve.
About the Recipe
This recipe is suitable for vegetarians and vegans.
Massel make a range of vegan stocks and stock powders which are flavoured to be similar to chicken or beef stock. You can also get low salt varieties if that is an issue for you. They are a staple item in my pantry.
This recipe calls for canned red kidney beans. You can of course cook your own, but good quality canned beans are so readily available that I don't usually bother. Just make sure that the brand that you buy has been pre-soaked otherwise they may tend to be hard.
Just a pinch of sugar will go some way to downplaying the acidity of the tomatoes.
Mix up the vegetables and legumes depending on what you have. I often add some spinach at the last minute or switch out the red kidney beans for cannellini beans. It is also quite nice sprinkled with some parmesan cheese.
Risoni is a shape of pasta that resembles small grains of rice. You can substitute any small types of pasta.
Copyright © 2022 Thornleigh Seventh-day Adventist Church