Online Magazine: Edition 74
Summer (Dec-Feb) 2022/23
Welcome to the Seventy-fourth Edition of the Online Magazine of the Thornleigh Seventh-day Adventist Church.

Articles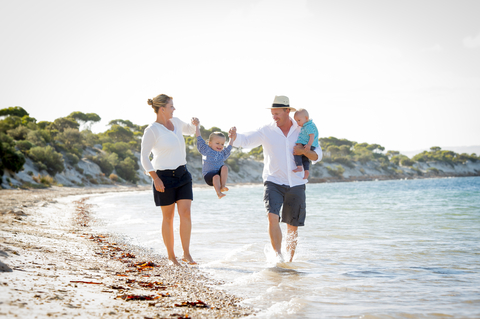 Editorial
Welcome to the summer edition of our online magazine.
The initial results of the 2021 Australian census have recently been released, providing a feeding frenzy for demographers. This year's census has revealed, for the first time, that a majority of Australians do not identify as Christian. [1]
When the first census was conducted in 1911, 96 per cent of Australians listed a form of Christianity as their religion, and you can see from the graph below, the escalating downwards trend in later years. [2]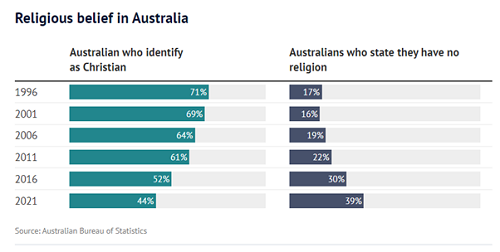 With these results, Australia can hardly continue to consider itself to be a Christian nation. This then begs the question of what this mean for the way that we as Christians live out our identity? May I make two suggestions that immediately come to mind for me.
Have a reasonable faith- As Christians we are not used to feeling like we are in a minority, but we can no longer assume a level of shared understanding within our community. We must have a reason for our faith and be able to articulate it. (1 Peter 3:15)
We are known for our actions - History has seen some horrendous things done, erroneously, in the name of God. We are known for our actions and perhaps it is time to get back to our roots, using Jesus' example. Love your neighbours as yourselves seems to just about cover most things (Matthew 22:37-39). How about: provide for the hungry and thirsty; take in strangers; clothe those in need; look after the sick; and visit prisoners (Matthew 25:34-36). Who could be disillusioned with a reputation thus?
Times have changed and they will continue to change, with an expectation of a continuation of the trend in the next census. It makes one stop and think, that perhaps, I may be the only picture that some people see of the representation of Christ. Such a huge responsibility against such inadequacy.
In the light on this, may I ask of you two things:
Assess all behaviour against the criteria of, whether it was done in love. If not, then it is not a representation of Christ.
Please forgive me for the inadequate picture of God that you see through me.
[1] https://www.abc.net.au/religion/david-smith-christianity-and-the-australian-census/13953748
[2] https://www.smh.com.au/national/abandoning-god-christianity-plummets-as-non-religious-surges-in-census-20220627-p5awvz.html
In this Edition
About Time - by Annette Stafford
Annette writes of the fleeting nature of time and reminds us to fix our priorities on the one who created time.
Is there Life After Death? - Ryan Stanton (Writing for "Sings of the Times")
Ryan takes inspiration from his passion for science fiction in investigating the Christian concept of life after death.
Book Review - Healing Lives by Sue Williams
Our resident book reviewer introduces us to a book that shows how true friendship can grow between people whose lives are so very different.
Vegetarian and Vegan Recipes - Erica Green
Our recipe column for this edition goes all out with four vegan salads just in time for summer.
Copyright © 2022 Thornleigh Seventh-day Adventist Church