Plane Talk
by John Morris

Plane Talk - Some aircraft stories and lessons for life

The Catalina
I was listening to "Macca" (Ian Macnamara of Australia All Over) on Sydney radio 702 on Sunday morning December 7, 2008 and heard an interview with Jim Hazelton, the founder of Hazelton Airways. He was flying in a Catalina flying boat that had been built in 1946 and of the type used for mine laying, search and rescue operations and reconnaissance activities during World War 2.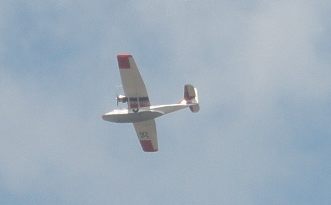 It was too good to miss. After arriving back at home and completing sundry household duties Marcia and I went to North Sydney Park where we would have a good view over the harbour. It was a chance to see what would be the second flying Catalina in Australia and the only one which could land on water and land. Marcia had a close interest in the plane. Having lived a good number of years up to her teens in New Guinea, Marcia was very familiar with the Catalina which saw extensive use in that area during the war and as a general transport vehicle for many years after.
At 1.30 pm, the only aircraft sighting was a small single engine plane flying around the harbour. I rang Darryl Wicks, a pilot friend, for advice and he suggested ringing Aviation Australia to get an update on the plane's arrival. Before I had time to dig into the telephone directory, the Catalina flew overhead. It made 5 circuits of the harbour flying over head at around 500 feet before heading west to Bankstown Airport.

Lake Eyre Flyover
Lake Eyre is the largest Lake in Australia. It is located in the centre east of South Australia about 730 kilometres from Adelaide. The lake is normally dry. With an evaporation rate of 2540 millimetres per annum any rainfall in the area is quickly returned to the atmosphere. The lake can really be called a lake on the few occasions it is filled from flooding waters that have fallen hundreds of kilometres away.
This has occurred some 8 or so times since records have been kept and of those times 3 or 4 have been when the lake filled to total capacity.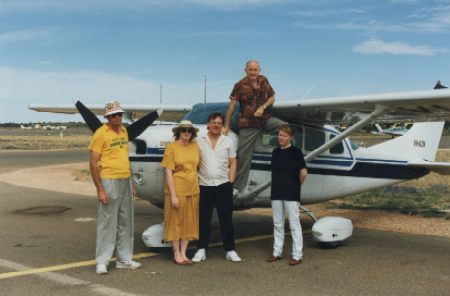 Sunday morning we flew to Maree at the southern end of the Birdsville track dropping into the airstrip at the edge of a mighty thick and black cloud. The airstrip was crushed rock. Landing fees could not justify tar seal or concrete. To our surprise Darryl's landing was superb, the best of the whole trip, a fact that we reminded him of each time we landed on the tar sealed runways on the rest of the trip.
A car came out from town and gave us a lift back just in time to save us getting wet from the rainfall dropped by that black cloud. An historic moment - it does not rain too frequently at Maree. Average annual rainfall for the area from 1994-2005 amounted to 298mm, or just under 10 inches.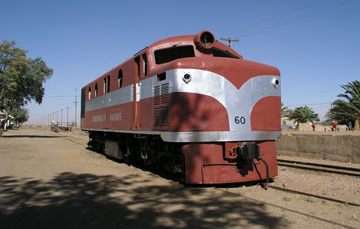 It was a great sight. Water as far as your eye could see. Lake Eyre North is about 120 km long and 70 km wide. We flew partway up Lake Eyre North, then turned south and flew over the Goyder channel to Lake Eyre South. We returned to Broken Hill, where we overnighted, flying over Andamooka and Lake Torrens (another salt expanse), and refueling at Leigh Creek on the way.
The last part of Monday's itinerary had to be changed. Dropping into Bathurst for fuel, we found that the route into Sydney was clouded over. After a couple of attempts to find a way through the cloud towers Darryl decided not to take the risk and we returned to Bathurst. The passengers returned to Sydney by hire car while Darryl stayed overnight and flew back the next morning . Darryl's approach to risk taking was appreciated.
Cowombat Flat is a beautiful alpine meadow situated some 35km south of Mt Kosciuszko. It slopes gently toward the north west and is the cradle of the mighty Murray River that runs over 2,500 km to Lake Alexandrina and the river mouth. The "river" here begins with some oozing springs and runs down the slope into a rivulet and finally to a little creek before entering the timber. It is not too far along that with other creeks running into it, the river becomes a river, with pristine delightful water to wet the palate.
Marilyn (youngest daughter) and I decided to spend a few days driving (4WD version) through the high country of Victoria. We crossed the Murray River which forms the boundary between New South Wales and Victoria and headed up hill to the Davies High Plains.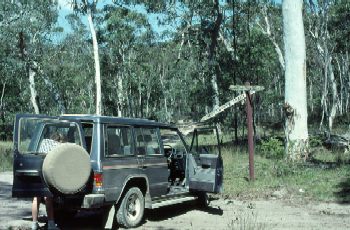 The wreck was not hard to find, not that there was a lot there. I initially had thought that it might have been the wreck of the Southern Cloud that disappeared in May 1931 and was not found until October 1956, 25 years later. It was found by a worker from the Snowy Mountain Scheme, out for a bushwalk. The wreck is a little more modern than that. It is that of an RAAF Dakota (DC3) that crashed in 1954. The DC3 had some engine trouble before arriving at Canberra one evening. The problem was checked out and nothing was found. The plane left Canberra next morning for Sale on the coast.
"At approximately 11am, just before reaching Mt Kosciuszko, the starboard engine again failed. This time however the plane lost altitude dramatically and was subject to severe turbulence. The only option was to attempt a forced landing. At that point an open flat appeared amongst the mass of forested mountains. Laurie Hawes and Bernie Mullen struggled to control the stricken aircraft while Frank Howie sent out a distress signal. They circled the flat and made their approach. Before the Dakota could land it had to clear a ridge which resulted in too much height and speed for landing on the open ground.
The Murray River had to be negotiated, which runs across the flat as a small gully, as well as the severe turbulence and only one functioning engine. In the few remaining seconds Laurie made the decision to stall the plane into the timber on the south-western side of the flat.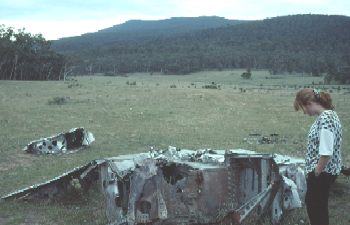 Remarkably, 3 of the four occupants survived the impact. There is little left of the wreck today. Parts went as souvenirs, to build an alpine hut, to a museum and to the crash enquiry
Why did the Dakota come down? The loss of the starboard engine and the turbulence had a severe impact on lift generation. The loss of altitude and the hills surrounding Cowombat Flat meant that the plane did not have enough air space to recover. There was no alternative to a forced landing.
Life is similar, it is a mixture of good and bad. Sometimes things run smoothly and sometimes there is no alternative to a forced landing. My mother had for many years a display card on her bedroom dressing table that gave me a continual reminder of these facts. The words on the card were:
"God hath not promised skies ever blue,
flower strewn pathways always for you
God hath not promised skies without rain,
joy without sorrow, peace without pain
But He hath promised strength from above,
unfailing sympathy, undying love." (2)
"In his Alfred Deakin Lecture in 1971 Malcolm Fraser had made his famous comment "....life is not meant to be easy." More recently he added "No - it isn't easy, for so many people" and he has strived to improve the lives of those people" (3) The substance of the lecture is largely forgotten, but the quote comes easily to many Australian lips assuming Fraser was the author. (The words were first penned by George Bernard Shaw (4))
Life is not a bed of roses. The business of living can get you down. Many today (April 2009) are looking at the Global Financial Crisis and are wondering what is going to happen. Jobs are disappearing, mortgages cannot be met. Lifestyle is about to go down the gurgler. Governments are splashing out on recovery expenditure. Big financial institutions to ensure survival are being effectively nationalised. The community is looking askance at the large salary and termination payouts to senior executives at a time when their companies are losing money hand over fist. The Sydney media has been full of the disputes between the Hells Angels and Commancheros motor cycle gangs with the prominently reported death by bashing at Sydney's Kingsford Smith Airport during rush hour. Community and care are disappearing fast.
Need some lift? God does offer support. Remember "The eternal God is thy refuge, and underneath are the everlasting arms: and he shall thrust out the enemy from before thee; and shall say, Destroy them. Deuteronomy 33:27. This offer is no flash in the pan. Note Psalms 103:17-18. "But the mercy of the Lord is from everlasting to everlasting upon them that fear him...to such as keep his commandments". For the financially worried Jesus suggested that you take advantage of the bank of heaven "..where moth and rust do not destroy, and where thieves do not break in and steal." Matthew 6:20 NIV
Let God give you a lift. Rest in his promise of strength from above.
References
(1) http://www.australianalps.environment.gov.au/publications/newsletters/no23.html accessed 22 March 2009
(2) Written by Fannie J Flint 1866 - 1932 Written as a hymn, though various versions of the verses are available (for example see nethymnal.org/htm/w/h/whatgodh.htm ).
(3) Racism No Way Classroom Facts Sheet The Right Honourable Malcolm Fraser AC CH www.trevorhampel.com/life-is-not-meant-to-be-easy Acessed 3 April 2009
(4) "Life is not meant to be easy, my child; but take courage -- it can be delightful." George Bernard Shaw www.quotationspage.com/quote/4173.html Accessed 3 Aprll 2009
(5) Michael McFayden's Scuba Diving Web Site www.michaelmcfadyenscuba.info/viewpage.php?page_id=588 Accessed 4 April.2009
Where texts are denoted "NIV" the scripture is taken from the Holy Bible, New International Version. Copyright 1973, 1978, 1984 International Bible Society. Used by permission of Zondervan Bible Publishers

This article and the pictures it contains are Copyright © 2009 by John L Morris. Used by permission.
Copyright © 2018 Thornleigh Seventh-day Adventist Church