Recipe - Pumpkin and Cashew Soup
by Erica Green

NOTE: Print This Page for easy reference when cooking.

When those winter winds start to blow, who can resist a hearty warm bowl of soup accompanied by a slice of crusty bread? Pumpkin soup is a real cold weather favourite, but this recipe is a little different from the traditional, in that the creamy texture comes from cashews rather than cream.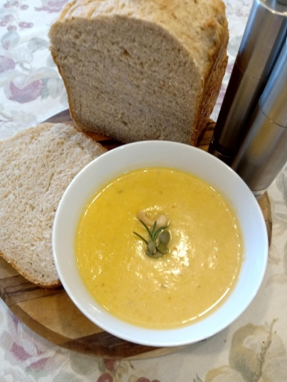 Ingredients
Serves 6-8
2 Tbsp. olive oil
2 onions, finely chopped
1 Tsp garlic paste
2 long red chillies, roughly chopped
2 Tsp. finely chopped fresh rosemary
1 1/2 kg butternut pumpkin, peeled and roughly chopped
200g roasted unsalted cashews
2 Ltrs water
5 Tsp. Chicken flavoured stock powder (Massel)
1/2 Tsp. salt

Method
In a large saucepan, sauté onions, garlic, chilli and rosemary in the olive oil until the onions are soft.
Add the pumpkin and cashews to the saucepan and stir through.
Pour in the water. Add the stock powder and salt. Bring to boil, cover and gently simmer for about 25-30 minutes, or until the pumpkin is soft and the cashews have started to soften.
Leave to cool somewhat, and then puree the soup with a stick blender until very smooth. The soup should be very creamy, with the nuts totally incorporated in the soup, so don't rush this step.
Reheat the soup, taste, and adjust the seasoning if needed.
Ladle soup into bowls and garnish as desired. Eg: Extra cashew or pumpkin seeds or rosemary sprigs.

About the Recipe
This recipe is suitable for vegetarians and vegans.
This recipe can be frozen. Cool the soup before putting into the freezer in plastic containers. When you defrost the soup it will separate and look a bit ordinary, but don't worry, as you heat it up things will reincorporate.
Massel make a range of vegan stocks and stock powders which are flavoured to be similar to chicken and beef stock. They are readily available in the major supermarkets, and you can also get low salt varieties, if that is an issue for you. Very much a staple item in my pantry.
If you cannot get unsalted cashew, feel free to substitute the salted variety, and just omit any additional salt.
I used butternut pumpkin, but feel free to use your own favourite variety. I just find butternut easier to peel and chop that the other varieties. I have had some knife related "near misses" trying to get into a Queensland blue.
If you find that once blended, you still have little pieces of nuts in the soup, it means that they have not been softened enough in the cooking process. This is not a huge problem, if you are making the soup in advance. As you leave the soup to cool the nuts will continue to take up moisture. When you re-heat the soup, just run the stick blender through it again, and all will be good.
If you don't have a stick blender, don't worry, you can just ladle the cooled soup into a standard blender or food processor and the result will be just as good. Although, you may have to cool the mixture a little more, in order to avoid the risk of a hot liquid related accident.
Copyright © 2019 Thornleigh Seventh-day Adventist Church