Recipe - Moroccan Carrot and Chickpea Tagine
by Erica Green

NOTE: Print this Page for easy reference when cooking.

I am using the term "Tagine" a little loosely in the title of this recipe. The term Tagine can refer to the North African covered earthenware pot that food is cooked in, or it can refer to a North African stew that is cooked in theses pots. I am choosing the latter and I am cutting corners here and just cooking the "stew" in a standard covered pot, so I hope that you will forgive me the looseness in the recipe title.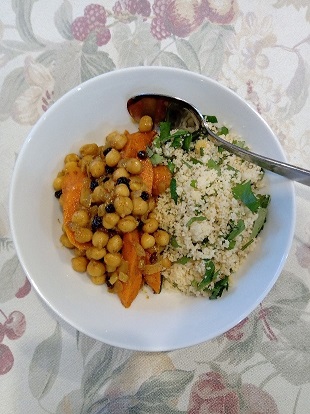 Ingredients
Serves 4
1 onion, chopped
4 garlic cloves, crushed
3 Tbsp. olive oil
3 Tsp. Moroccan spice mix
1 Tsp. Ras el hanout spice mix
3 Tbsp. chopped parsley (or coriander)
3-4 carrots, peeled and roughly chopped into chunks
1 cup water
1 Tsp. chicken flavoured stock powder
1 can (400g) chickpeas, drained
1 Tsp. honey
1/4 cup currants
1 Tsp salt (or to taste)
Directions
In the base of a large skillet/pot with a lid, sauté the onions and garlic in the olive oil over low heat for several minutes.
Add the spices, parsley or cilantro, carrots, water and stock powder. Cover and simmer over medium-low heat until the carrots are cooked to desired tenderness (approx 25 minutes).
When the carrots are cooked, stir in the honey, chickpeas and currants. Continue simmering until the chickpeas are heated through and the sauce is reduced and thick. Add salt to taste
Serve with Moroccan spiced couscous (also shown in picture).

About the Recipe
This recipe is suitable for vegetarians and vegans.
Massel make a range of vegan stocks and stock powders which are flavoured to be similar to chicken or beef stock. You can also get low salt varieties if that is an issue for you. They are a staple item in my pantry.
This recipe calls for canned chickpeas. You can of course cook your own, (1 x 400g can = approximately 1 and a half cups cooked chickpeas) but good quality canned chickpeas are so readily available that I don't usually bother. Just make sure that the brand that you buy has been pre-soaked otherwise they may tend to be quite hard.
You could replace the currants with sultanas or chopped dried apricots but I quite like the colour contrast of the currants.
Moroccan spice mixes typically contain:- turmeric; cumin; coriander; paprika; and rosemary. They can be bought from your local supermarket under various brands (Eg: Hoyts, Master foods).
Ras el hanout (meaning top shelf) is a spice mix hailing from North Africa. The actual spice makeup will depend on the spice maker, but typically contains spices like:- cardamom, cumin, clove, cinnamon, nutmeg, , allspice, and ginger.
If you are really keen you can make these spice mixes yourself, but seriously, not many of us are going to go to that effort.
Copyright © 2020 Thornleigh Seventh-day Adventist Church