Recipe - Moroccan Spiced Couscous
by Erica Green

NOTE: Print this Page for easy reference when cooking.

Couscous is such a quick dish to prepare and in an excellent accompaniment to North African stews. The added fresh herbs and lemon in this dish are a lovely contrast to the richness and spice of a Moroccan tagine. (Shown in picture on the right.)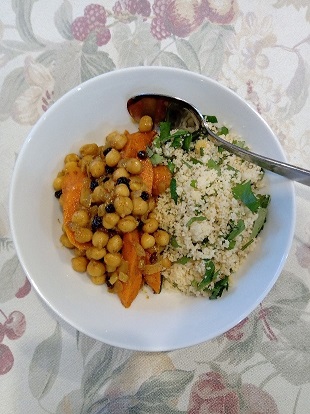 Ingredients
Serves 4
1 cup couscous
1 Tsp. chicken flavoured stock powder
2 Tbsp. extra virgin olive oil
1 cup boiling water
1-2 Tbsp. chopped fresh mint
1-2 Tbsp. chopped fresh coriander
1 spring onion, chopped
1/2 preserved lemon rind, finely chopped
6 stuffed green olives, roughly chopped
Directions
Pour boiling water over the couscous, stock powder and olive oil. Stir and cover, setting aside for 5 minutes until the moisture is fully absorbed
Rake through with a fork to fluff up the grains.
Stir through the remaining ingredients.
Serve as a side dish to a Moroccan tagine (also shown in picture)

About the Recipe
This recipe is suitable for vegetarians and vegans.
Massel make a range of vegan stocks and stock powders which are flavoured to be similar to chicken or beef stock. You can also get low salt varieties if that is an issue for you. They are a staple item in my pantry.
You can buy preserved lemons in specialty stores or you can make your own.
Copyright © 2020 Thornleigh Seventh-day Adventist Church