Recipe - Baked Enchiladas with Sweet Potato
by Erica Green

NOTE: Print this Page for easy reference when cooking.

Apart from the fact that I love spicy Mexican food, what I really like about this recipe is that you can prepare it ahead of time and put it on to bake when you are ready.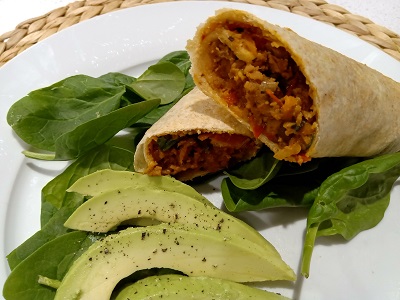 Ingredients
Serves 8
2 Tbsp. olive oil
1 onion, finely chopped
3 garlic cloves, crushed
1 orange sweet potato, peeled (kumara), grated
3 Tbsp. chopped coriander stalks
3 Tsp. ground coriander
2 Tsp. ground cumin
2 Tsp. dried oregano leaves
2 Tsp. smoked paprika
1/4 Tsp. ground chilli
4 fresh ripe tomatoes, roughly chopped
415g can Nutmeat, finely chopped in food processor
3 Tsp. vegetable stock powder
400g can black bean, drained
50g baby spinach, shredded
Salt to taste
8 mini whole meal tortillas/wraps
Rice bran oil spray
Avocado to serve (optional)
Method
Preheat the oven to 180C fan forced
Heat oil in a large frying pan over medium heat. Add onion. Cook, until soft. Add the garlic, sweet potato and coriander stalks. Cook, stirring, for 2 minutes or until just softened. Add the spices stirring, for 1 minute or until aromatic.
Add the, tomatoes, nutmeat, stock powder and beans. Cover and cook on a low to medium heat, for 10 minutes, stirring occasionally. Stir through the spinach and season with salt. Set aside to cool.
Divide the mixture between the eight tortillas. Roll up and place seam side down in a lasagne dish. Spray with rice bran oil and cover with foil. Bake for 15 minutes. Uncover and bake for a further 10-15 minutes.
Serve with sliced Avocado.

About the Recipe
This recipe is suitable for vegans. As an alternative, for those who are vegetarian, you could add grated cheese to the wrap and sour cream to serve.
Nutmeat, under the Vegie Delights brand, can be found in many health food stores and some of the major supermarkets, usually in the health food aisle. It is a peanut and wheat gluten based meat substitute, which is suitable for vegans. There is a trick to getting the product out of the can. Here are some tips from the Vegie Delights internet site. "Opening Instructions. 1) Open can on the end without the ring pull using a can opener. 2) Loosen the Nutmeat by running a table knife around the inside of the can between the can body and the Nutmeat. 3) Open the ring pull lid on the opposite end. 4) Carefully push the Nutmeat through the can from the ring pull end." (I use the discarded ring pull lid to push it through) (https://www.vegiedelights.com.au/)
Massel make a range of vegan stocks and stock powders. You can also get low salt varieties if that is an issue for you. They are a staple item in my pantry.
If you can't find smoky paprika, ordinary sweet paprika will do.
Switch up the recipe to suite yourself. Substitute red kidney beans for black beans if that is what you have. If you hate coriander then just leave it out or replace it with flat leaf parsley. Add more chili powder or some dried or fresh chillies if you like it hot.
Copyright © 2021 Thornleigh Seventh-day Adventist Church