Recipe - Satay Carrot Soup
by Erica Green

NOTE: Print this Page for easy reference when cooking.

I have found that if you are trying to include more vegan food in your regular diet, the one thing that you miss is the creaminess that comes from dairy. So I was looking for different ways to make a creamy style soup, that would still be vegan friendly, and this recipe is the result. The love child of satay sauce and carrot soup. It is so silky smooth with a little bit of heat from ginger and chilli. Go easy or go hard on the Chili, your choice.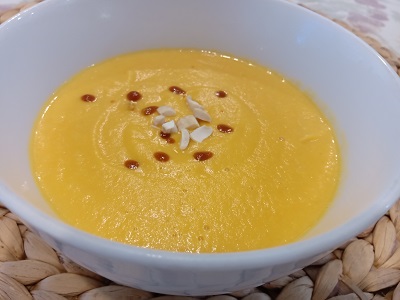 Ingredients
Serves 3
1 onion, peeled and chopped
1 Tbsp. olive oil
1 Tbsp. plant based margarine
2 Tsp. garlic paste
1 Tbsp. ginger paste
500g carrot, peeled and roughly chopped
2 1/2 cups water
2 Tsp. chicken flavoured stock powder
2 Tbsp. smooth peanut butter
1 Tsp. Srirarcha chili sauce (plus optional extra for garnish)
1/4 Tsp salt or to taste
chopped peanuts for garnish (optional)
Instructions
In a saucepan, sauté the onions in the oil and butter until they are soft. Add the garlic and ginger paste and stir through for a minute
Add the carrots, water, and stock powder to the pan. Cover and bring to the boil. Simmer until the carrots are cooked.
Add the peanut butter and chili sauce and stir through.
Take off the heat and blitz with a stick blender until the soup is very smooth. Or cool slightly and blitz in a blender.
Serve with an optional garnish of chili sauce droplets and chopped peanuts.

About the Recipe
This recipe is suitable for vegetarians and vegans.
Massel make a range of vegan stocks and stock powders which are flavoured to be similar to chicken or beef stock. You can also get low salt varieties if that is an issue for you. They are a staple item in my pantry.
Feel free to ramp up the chili level to suite your own taste.
If you are reheating this soup you may need to add a touch of extra water as it thickens as it cools.
Copyright © 2021 Thornleigh Seventh-day Adventist Church