Recipe - Loaded Mexican Rice
by Erica Green

NOTE: Print this Page for easy reference when cooking.

As a vegetarian, you know that you will be able to easily find a good selection of tasty dishes amongst traditional Mexican cuisine. Black beans and pinto beans feature prominently, and this healthy source of protein is probably why many vegetarians love Mexican food.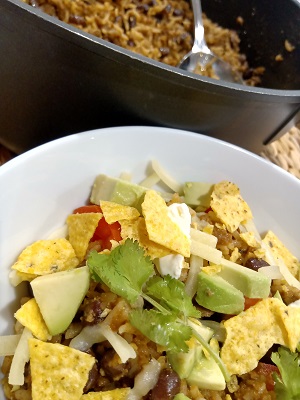 Ingredients
Serves 6-8
Rice Mixture
2 fresh bay leaves, cut out the centre vein and roughly chop
1-2 long red chilli, roughly chopped
2 Tbsp. coriander stems, roughly chopped
1 garlic clove, peeled
1/4 cup oil
1 onion, roughly chopped
1 Tbsp. tomato paste
1 Tsp. dried oregano
1 Tsp. smoky ground paprika
1 Tsp. sweet ground paprika
1 Tsp. ground cumin
1 Tsp. ground coriander
2 cups water
1 Tsp Massel chicken flavoured stock powder
1 cup basmati rice
1 x 400g-425g can black beans, drained and rinsed.
1 x 415g can "Vegie Delight" Casserole Mince (Optional), drained and rinsed
salt to taste
The Loading
1 cup grated low fat cheddar cheese
1 cup roughly broken plain salted corn chips
1 avocado, diced
1 tomato, diced
2 Tbsp. coriander leaves
1/2 cup light sour cream
squeeze of lime juice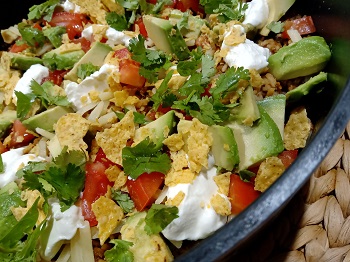 Method
Place bay leaves, chilli, coriander, garlic, and oil in a small food processor and blitz until well chopped. Make sure that there are no large pieces of bay leaf. Add the onions and roughly chop.
Sauté onion mix in a large deep lidded pan until translucent.
Add Tomato paste, oregano, smoky and sweet paprika, cumin, and coriander. Cook, stirring, for 1 minute or until aromatic.
Add the rice and stir to coat in the oil and spices.
Add the water, stock powder, beans and casserole mince and bring to a simmer. Put the lid on the pan and reduce heat to low. Cook for 20 minutes or until the rice is almost tender.
If the mixture is still a little damp, simmer uncovered for a few minutes to evaporate any excess moisture.
Check seasoning and add salt to taste.
Top the rice mixture with the "loading" ingredients. Either take the whole pan to the table topped with the "loading" ingredients, for people to serve themselves, or serve individual bowls of the rice mixture and allow people to pick their own toppings.
About the Recipe
This recipe is suitable for vegetarians. By omitting the sour cream and cheese, the recipe can easily be modified to be suitable for vegans. Alternately you can use a plant based cheese. Just be aware that not all corn chips are vegan friendly. Choose the plain variety and check the ingredients on the back of the packet.
Casserole Mince, under the Vegie Delight brand, can be found in many health food stores and some of the major supermarkets, usually in the health food aisle. It is a wheat gluten based minced meat substitute, which is suitable for vegans. If you can't source this product, don't worry, just leave it out. The mince comes in a gravy, and in many recipes I use the complete contents of the tin. For this recipe, I recommend draining and rinsing the contents as I only want the mince itself. (https://www.vegiedelights.com.au/ )
Massel make a range of vegan stocks and stock powders which are flavoured to be similar to chicken or beef stock. You can also get low salt varieties if that is an issue for you. They are a staple item in my pantry.
Recipe Alternatives
Serve just the rice mixture on its own without the "loading".
Substitute red kidney beans for black beans if that is what you have.
Pick and choose whatever "loadings" you like or have on hand at the time.
If you don't like things too hot, then only use one Chili and/or remove the seeds. If you want it hotter then add extra chillies or ground chilli powder to the rice mix or top with sriracha sauce or jalapenos.
You can use an alternate vegan mince in pace of casserole mince, or leave it out altogether. You may need to alter the water level a little to compensate.
Copyright © 2021 Thornleigh Seventh-day Adventist Church