Recipe - Pumpkin Soup with Thai Flavours
by Erica Green

NOTE: Print this Page for easy reference when cooking.

Pumpkin soup must be one of the top ten favourite soup varieties, with as many recipes as there are cooks. I really like the fusion of classic pumpkin soup and spicy Thai flavours in this recipe.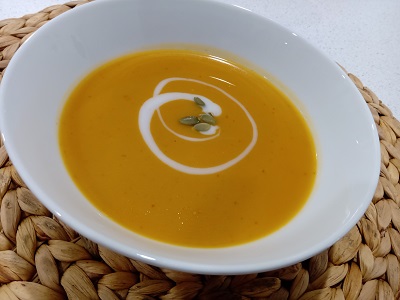 Ingredients
Serves 6
1 Tbsp. Oil
1 onion, peeled and finely chopped
3 Tbsp. Red curry paste (Ayam Brand)
1.5 Kg peeled and chopped Kent pumpkin
1 Ltr. water
3 Tsp. chicken flavoured stock powder
2 Tsp. salt or to taste
1 x 270ml can light coconut milk
2 Tbsp. pumpkin seeds for garnish
Instructions
In a large saucepan, sauté the onions, in the oil until they are soft
Add the curry paste and cook until fragrant (30 seconds)
Add the pumpkin, water, chicken stock powder and salt. Simmer for 20 minutes or until the pumpkin is soft.
Reserve a small amount of coconut milk for garnish. Add the remaining coconut milk to the pan and then puree the soup with a stick blender until smooth.
Serve drizzled with the reserved coconut milk and topped with a few pumpkin seeds.
About the Recipe
This recipe is suitable for vegetarians and vegans.
Massel make a range of vegan stocks and stock powders which are flavoured to be similar to chicken or beef stock. You can also get low salt varieties if that is an issue for you. They are a staple item in my pantry.
Some brands of red curry pastes are not vegetarian/vegan friendly so read the labels first. The "Ayam" brand is suitable for vegans
If you are reheating this soup you may need to add a touch of extra water as it thickens as it cools.
Copyright © 2021 Thornleigh Seventh-day Adventist Church