Recipe - Slow Cook Chickpeas with Preserved Lemon and Dried Fruits
by Erica Green

NOTE: Print this Page for easy reference when cooking.

Chickpeas are one of my favourite legumes. They have a lovely nutty flavour and creamy texture and they are a quintessential part of Middle Eastern cuisine.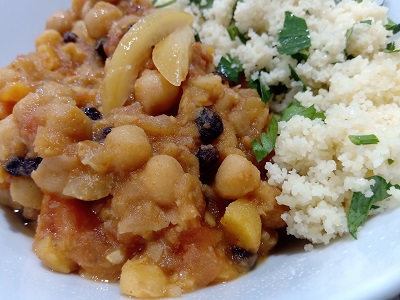 Ingredients
1 cup chickpeas (dried)
2 cups boiling water
1/2 Tsp. bicarbonate soda
2 cups chopped roma tomatoes (skin them if you could be bothered)
2 Tsp. ras el hanout spice mix
1 Tbsp. oil
1/2 preserved lemons, chopped (rind and flesh)
2 bay leaves
1 1/2 cups water
1 Tsp. chicken stock powder
1 Tsp. crushed garlic
1/4 cup dried chopped apricots
1/4 cup dried currants
1 Tbsp. chopped coriander
Salt to taste
Serve with couscous and coriander

Method
Soak chickpeas overnight in boiling water and soda. Drain and rinse
Place in a slow cooker together with, chopped tomatoes, spice, oil, lemons, bay leaves and water. Cook on high for 4 hours.
Add stock powder, garlic, dried fruits and cook for a further ½ hour on high.
Adjust seasoning if required and serve with couscous and chopped coriander.
About the Recipe
This recipe is suitable for vegetarians and vegans.
Massel make a range of vegan stocks and stock powders which are flavoured to be similar to chicken or beef stock. You can also get low salt varieties if that is an issue for you. They are a staple item in my pantry.
Ras el hanout (meaning top shelf) is a spice mix hailing from North Africa. The actual spice makeup will depend on the spice maker, but typically contains spices like:- cardamom, cumin, clove, cinnamon, nutmeg, allspice, and ginger.
Roma tomatoes tend to have a higher flesh to water ratio but if you don't have them, just substitute with whatever tomatoes that you do have.
If you don't like coriander, and I know that there are some of you out there, just substitute with flat leaf parsley.
You can buy preserved lemons in specialty stores or you can make your own.
Copyright © 2022 Thornleigh Seventh-day Adventist Church