Recipe - Chickpea Burger
by Erica Green

NOTE: Print this Page for easy reference when cooking.

Chickpeas are not only one of the most versatile legumes, they also happen to be my favourite, so of course I am going to use them to make burgers. The best thing about this recipe, apart from the taste, is the non-traditional cooking approach. With a little bit of advance preparation, you can have burgers from the freezer to the bun in a matter of minutes.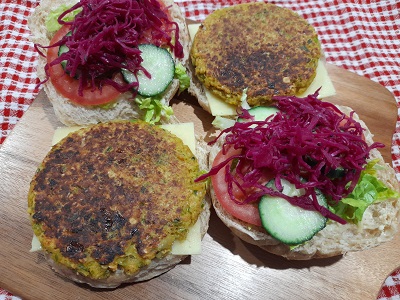 Ingredients
Serves 4 large
2 Tbsp. light olive oil
1 onion, peeled and finely chopped
1 Tsp. garlic paste
1/2 Tsp. dried ground turmeric
1/2 Tsp. dried ground cumin
1/2 Tsp. dried ground coriander
up to 1/4 Tsp. dried ground chili powder
1 x 400g can chickpeas, drained
1/4 cup roughly chopped fresh coriander or parsley
1/2 Tsp. vegetable stock powder
1/2 cup quick rolled oats
2 Tbsp. wholemeal flour
1/2 Tsp. baking powder
1/4 Tsp. salt or to taste

Method
Sauté the onions and garlic in the oil until soft. Add the spices and toast until aromatic.
In a small food process place the, onions, garlic & spice mixture along with the chickpeas, coriander, and vegetable stock powder. Blitz until well mixed but not totally smooth. You want to have some texture.
Pour into a bowl and mix through the rolled oats, flour, baking powder and salt.
Form into patties. For large burger buns, use 1/3 cup of the mixture in a burger/patty press.
Lay out onto a flat tray and freeze. Once frozen, bag them up and label for future use.
Cook the burgers straight from the freezer. Place them on the bottom plate of an unheated sandwich press. Adjust the top plate fixed height settings so that the top plate only just sits at the frozen burger height. This way, as the burger defrosts, the sandwich press will not squash the burger too flat. Turn on the sandwich press and cook, without turning, until the burgers are nicely browned.
Remove with a spatula and place the burger on a bun with your favourite burger fillings.

About the Recipe
This recipe is suitable for vegetarians and vegans.
This non-traditional cooking method has several advantages. Cooking these burgers on a sandwich press is much quicker than the traditional pan-frying process, as both sides of the burger are cooked at once. I recommend that you use the adjustable height control so that you don't crush the burger too much. Because you don't need to handle the burger so much, to turn it over, the burger seems to hold together better. Cooking the burgers from frozen also helps to maintain the burger form. Because most sandwich press plates are non-stick coated, you don't need to add extra oil to cook them. Tip - Cleaning is much easier if you wipe the sandwich press down with a damp cloth while the machine is still hot.
A burger/patty press, is a kitchen utensil designed to form meat patties that are consistently shaped. It consists of a round container, generally the size of a burger bun, with a plunger that you use to press the meat into a patty shape.
If you place sheets of baking paper beneath and on top of the burgers, in the burger press, it will be easier to use the burger press and it will be easier to separate the burgers once frozen.
Don't worry if you don't have a burger press, just form patties with your hand, doing your best to make them the same thickness from the centre to the edges.
Massel make a range of vegan stocks and stock powders. You can also get low salt varieties if that is an issue for you. They are a staple item in my pantry and is a quick way to add flavour to a recipe.
Quick rolled oats are steamed longer and rolled thinner than traditional oats and thus they cook quicker.
Double up the recipe and stock up the freezer.
Copyright © 2022 Thornleigh Seventh-day Adventist Church