Misunderstandings
by Erica Green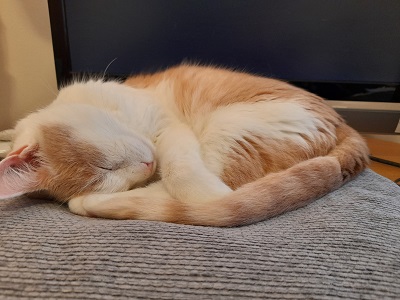 It has been a long time since we have had a pet in our house, bit this year has seen a change in that. Recently my mum got to the stage where she needed more assistance than she was able to get living alone at home and so we have been going through the transition of moving her to Sydney. Of course, that meant that we also bought up her precious cat (Ginger Meggs or Meggsy for short) to live with us. Meggsy was very special because he was a stray that turned up on mum's doorstep in need of a home and immediately proceeded to adopted mum and dad. He soon became part of the house as if he had always been there, spending large portions of the day sleeping on dad's knee. Likewise, he very quickly became part of our household. This is a picture of him, on my desk, "helping" me work during Covid lockdown. It is a hard life.
A few weeks ago, it came time for a Meggsy to visit the vet for a check-up. Like many animals, he does not like the carry cage, the car, or the vet. He spent the entire journey in the car yowling in his cage like the world was coming to an end. He clawed at the cage, started to shiver, and even had a little bladder related accident because he was so scared. Luckily, I had allowed for this and had placed a towel in the cage for exactly this eventuation.
Now, because of Covid, there was a whole new process to be undertaken in visiting the vet. Firstly, you wait in the car, and then an assistant comes out and takes your particulars and carries the pet in to see the vet, while you wait in the car. The vet then examines the pet and rings you on your mobile phone to discuss the issues. The assistant then returns the pet to your car, hands out the eftpos machine to be tapped and then you are on your way. All this of course whilst wearing masks.
Meggsy was collected and a little while later we got the call. The vet talked through the general check-up and then she said, "Now about Meggsy's respiratory issues". I was a little shocked by this statement. I had not noticed any breathing difficulties apart from the occasional cute snore when he slept. There was no passive smoking issue that I was aware of or exposure to fumes that would be of concern. I started to imagine the worse. How can I go back and tell mum that her precious cat has a lung disease? "Sorry", I replied "I don't know anything about any respiratory issues." After a little bit of back and forth with her assistant, she came back and said, "well the notes here say that Meggsy has been experiencing an anxious wheeze, but I couldn't find any evidence of a lung condition, so that is all good then, unless you have any other concerns."
It took a few seconds before I realised what had happened. Amongst other things, when I had handed the cat cage over to the vet assistant, I had apologized for Meggsy's "anxious wee" as the cage was a bit smelly from his accident. This must have been turned into instructions for the vet to investigate Meggsy's "anxious wheeze". It was a bit like Chinese whispers. Image how this message might have ended up if there had been even more than that one extra person in the communication line. We all had a little laugh at poor Meggsy's expense.
This story was more amusing than anything else, with no real harm done. However, I am sure that all of us have experienced the pain and frustrations of both misunderstanding other and being misunderstood ourselves. Given the common nature of these occurrences, is it any wonder that the Bible has a few pieces of advice about dealing with misunderstandings between people.
Potentially misunderstanding others :-
Unless there is evidence to the contrary, do I give people the benefit of the doubt? Do I choose to believe someone has my best intentions at heart more easily than I choose to believe something bad? The bible tells us that "Love always trusts" (1 Cor 13:7) That is not to say that love is naive, but love does not automatically think the worst.
It is so easy to believe the worst about others, but we cannot know people's motivation or intentions. " … The Lord does not look at the things people look at. People look at the outward appearance, but the Lord looks at the heart." (1 Samuel 16:7, NIV)
If we are not sure about something or someone, perhaps we would be wise to suspend judgment until we as able to seek clarification. "To answer before listening-that is folly and shame." (Proverbs 18:13, NIV). Take your time before ascribing motivation and intent to the behaviour of others. "My dear brothers and sisters, take note of this: Everyone should be quick to listen, slow to speak and slow to become angry" (James 1:19, NIV)
Think of how you would want to be treated if the situation were reversed. "Do not judge, or you too will be judged. For in the same way you judge others, you will be judged, and with the measure you use, it will be measured to you." (Matthew 7:1-2, NIV)
Being misunderstood
When others hear you, they filter what you say through their own life experiences and perspectives, which can easily lead to a misjudgement of actions and motives. No matter how careful you are, or how pure your motives, there will always be somebody who misunderstands you. It may be some comfort to know that you are not alone. Even Jesus was misunderstood as being from Satan himself. "But when the Pharisees heard this, they said, "It is only by Beelzebul, the prince of demons, that this fellow drives out demons." (Matthew 12:24, NIV)
Be open minded and consider if you have done something which warranted or contributed to the misunderstanding. If so, then an apology is your first action. Paul was misunderstood by the church at Corinth. "Now this is our boast: Our conscience testifies that we have conducted ourselves in the world, and especially in our relations with you, with integrity and godly sincerity. We have done so, relying not on worldly wisdom but on God's grace." (2 Corinthians 1:12,NIV)
Do what you can to clarify any misunderstandings. "For I wrote you out of great distress and anguish of heart and with many tears, not to grieve you but to let you know the depth of my love for you." (2 Corinthians 2:4, NIV).
If you have done your best, to no avail, don't beat yourself up. We can't always control how people perceive us. "If it is possible, as far as it depends on you, live at peace with everyone." (Romans 12:18, NIV)
When we have our motives maligned, particularly in front of others, it can be quite tempting to retaliate. The bible advises against such action. "Do not repay evil with evil or insult with insult. On the contrary, repay evil with blessing, because to this you were called so that you may inherit a blessing." (1 Peter 3:9, NIV) Perhaps, the promised blessing here is peace of mind.
Think of how you would want to be treated if the situation were reversed. "So in everything, do to others what you would have them do to you, for this sums up the Law and the Prophets." (Matthew 7:12,NIV)
Summation
If you are potentially misunderstanding others :-
In the absence of evidence to the contrary, take your time in ascribing judgement to the behaviour of others. Give them the benefit of the doubt, in the same way that you would like others to behave if the situation were reversed.
If you are being misunderstood by others :-
Recognise that there will always be situations where you will be misunderstood. If you are at fault then apologise, otherwise do you best to clarify any misunderstanding. Behave in the same way that you would like others to behave if the situation were reversed, returning good for evil. If none of these strategies is successful, know that you are in good company and don't let it drag you down.
Copyright © 2022 Thornleigh Seventh-day Adventist Church