Recipe - Pickled Cabbage
by Erica Green

NOTE: Print this Page for easy reference when cooking.

As a child, cabbage was always something that was boiled to death before being presented, grey and limp, as one of the 3 veg on your dinner plate. Thankfully, I am no longer "required" to eat cabbage in this state. In my adult life, pickled cabbage is a delicious way that I like to consume what is a very nutritious but often mistreated vegetable.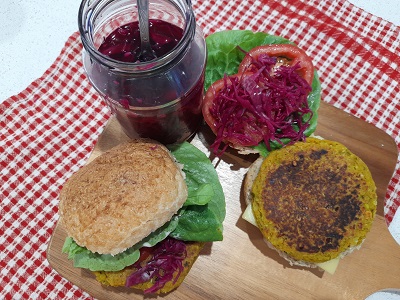 Ingredients
250g red cabbage, finely shredded on a mandoline
1 cup apple cider vinegar
1 Tsp. salt
1-2Tsp. sugar
1/2 Tsp. freshly cracked black pepper (optional)
1 Tsp. caraway seeds (optional)
1/4 cup water if needed

Method
Place all the ingredients, except the water, in a bowl and massage the cabbage for a few minutes to help break down the fibre structure.
Place into a 500ml screw top jar. If need be, top up with a little extra water to make sure that the cabbage is submerged.
You can use the cabbage within an hour, but the flavours will develop if you leave it for longer. The jar can be stored in the fridge for a few weeks.
Take what you need from the jar, draining off the excess liquid back into the jar.
This pickle is a good accompaniment to a burger or a falafel roll.

About the Recipe
This recipe is suitable for vegetarians and vegans.
Feel free to mix up the vegetables (Eg: add onions or carrots) and spices (Eg: add celery or mustard seeds, a bay leaf) in this recipe.
Be careful when preparing and eating the pickle, as the red colour will stain, much like beetroot.
A mandoline or v slicer is a great tool for very finely slicing vegetables. Just be careful though, and please use the guard. I have a bit of a love hate relationship with the appliance myself, with scars to show for my disrespect of the equipment.
Pickled cabbage is not the same as Kimchi or Sauerkraut which are fermented rather than pickled.
Copyright © 2022 Thornleigh Seventh-day Adventist Church