Online Magazine: Edition 66
Summer (Dec-Feb) 2020/21
Welcome to the Sixty-sixth Edition of the Online Magazine of the Thornleigh Seventh-day Adventist Church.

Articles
Editorial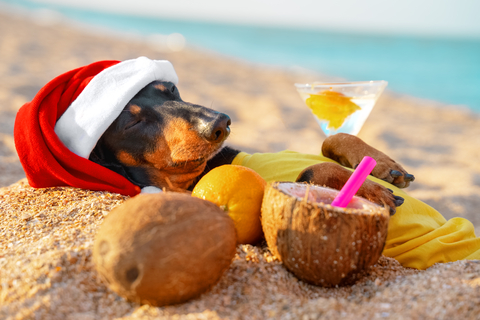 Christmas in the southern hemisphere always seen very different from the "White Christmas" scenes, that we see on television, from our northern hemisphere friends. But Christmas this year is not going to be "normal", even by Australian standards.
Everything is so uncertain. Will we be able to travel to be with relatives given the ever changing national and state border restrictions? Will children be able to visit Santa in the shopping centres? Can we still afford a full on Christmas with all the trimmings? Even shopping for presents is different this year, with so much on line. What about Christmas church service on line or on site without being able to sing carols? What about carols by candlelight in the Domain? Then after Christmas, we will all be holding our breaths to see if any relaxation of controls brings with it a resurgence of COVID-19 cases.
It is so easy to focus on what we can't do right now, but what about what we can do to make this Christmas a memorable one, for all the right reasons. Here are a couple of ideas to start you thinking.
How about a virtual Christmas gathering, courtesy of technology. No one is too far away for a virtual Christmas gathering now.
Stock up on popcorn and other treats for your household "Movie Countdown to Christmas" (one each night or one each weekend). Great for children and you could even arrange a quiz, for Christmas Eve, about the movies that you have been watching. Let your children pick their favourite and make up their own questions. You could even "zoom" the quiz on Christmas Eve with other friends and families.
Post "Elf on the Shelf" style pictures on your social media page every day leading up to Christmas. What is "Elf on the Shelf" you say? It is not such a huge thing in Australia, but "Google it". It does not have to be the actual elf, or the story that goes with it, just take the inspiration and make it your own. It can be a child's favourite toy getting up to mischief as Christmas approaches. For example:- Day 1 - Teddy covered in flour making gingerbread cookies; Day 2 - Teddy gate crashing a nativity scene; Day 3 - Teddy getting caught with his hands in the biscuit/cookie jar; Day 4 - Teddy writing Christmas cards; Day 5 - Teddy climbing the Christmas tree; Day 6 - Teddy singing Christmas hymns. You get the idea.
Work with your children to create your own nativity scene. There are plenty of resources on line, varying from quite complicated to simple printable patterns. I remember kids doing toilet roll nativity scenes. (Probably not the thing these days)
I challenge you to find a new, COVID friendly, way of celebrating Christmas that is good enough to become a new Christmas tradition. Focus on the important stuff, to the extent and in the way that COVID will permit.

In this Edition

Pastor's Piece - Pr Mark Baines
In this edition, Pr. Mark Baines shares with us a lovely story that demonstrates the fine line between obstacles and opportunities in our day to day lives.

Alone for Christmas - Myriam Salcedo-Gonzalu
Christmas is a time of high expectations, but not everyone is in a position to scale those expectations. Myriam writes for the "Signs of the Times" magazine, highlighting the plight of those, who for varying reasons, find Christmas to be an especially lonely time.

The Language of Social Distancing - Graeme Perry
Graham Perry writes for the "Teach Journal of Christian Education", and in this current Covid-19 environment, he shares with us some positive steps that we can take to survive the necessary social distancing regime.

Martha's Untold Story - Kristina Beeby
It is lovely to welcome a new local church member to our on-line magazine. Kristina takes us to the early times of Jesus ministry and brings to life the characters of Mary and Martha. I am sure that you will appreciate her literary style as much as I have.

Stepping Stones - Dr Jean Carter
It is wonderful to hear from her Jean Carter again. She is an insightful member of our local church family, and in this article she reminds us to guard against becoming a stumbling block in the lives of others, and to treasure those people in our lives who act as stepping stones.

Vegetarian and Vegan Recipes - Erica Green
Our recipe column for this edition includes a more traditional vegetarian Christmas lunch centrepiece, along with some refreshing summer salads.
Copyright © 2020 Thornleigh Seventh-day Adventist Church