Recipe - Roasted Cauliflower and Broccoli
with Herb Couscous and Dukkah, by Erica Green

NOTE: Print this Page for easy reference when cooking.

Roasting vegetables is always a good way to enhance flavours and textures. Then add nutty and toasty notes from dukkah and pearl couscous, sweet and sour notes from pomegranates and preserved lemons, together with handfuls of fresh herbs, and you have a flavourful vegetable dish that is a million miles away from the cauliflower of your childhood.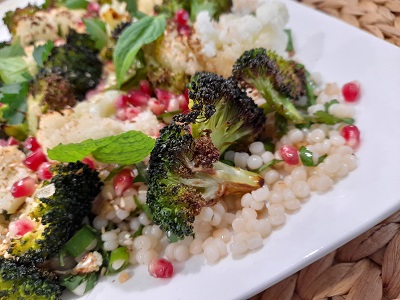 Ingredients
Serves 4-6
250g cauliflower florets (approx. 1 small head)
250g Broccoli florets (approx. 1 large head)
2 Tbsp. olive oil
1 Tsp. garlic powder
2 cups water
1 1/2 cups pearl/Israeli couscous
1 Tsp. vegetable stock powder
1 Tbsp. olive oil
1/4 cup chopped mint
1/4 cup chopped coriander
1/4 cup chopped parsley
1 spring onion, chopped
1/2 preserved lemon rind, finely chopped
1-2 Tbsp. dukkah
1/4 cup pomegranate seeds (aprox ½ a fresh pomegranate)
salt and pepper to taste.

Method
Preheat oven to 200°C (Fan Forced)
Place cauliflower, broccoli, and oil in a plastic bag and massage to coat the vegetables.
Place the vegetables on a lined backing tray, sprinkle with garlic powder and bake for 15 minutes.
Meanwhile, bring the water and stock powder to the boil. Add the pearl couscous, bring back to the boil. Turn down to a low simmer for 10 minutes or until the liquid is fully absorbed.
Pour into a bowl, stir through 1 Tbsp. olive oil, and allow to cool to room temperature.
Stir through the mint, coriander, parsley, spring onions, preserved lemon and set aside.
Remove the broccoli and cauliflower from the oven and allow to cool to room temperature. Place the vegetables over a bed of the couscous and herb mixture.
Sprinkle with dukkah and pomegranate seeds.
Adjust the seasoning to taste.
About the Recipe
This recipe is suitable for vegetarians and vegans.
Massel make a range of vegan stocks and stock powders. You can also get low salt varieties if that is an issue for you. They are a staple item in my pantry.
Pearl or Israeli couscous are small balls of semolina flour. Like regular couscous it is make from semolina flour, however, is larger in size and is prepared by boiling, whereas regular couscous just needs the addition of boiling water. Pearl couscous is also made from toasted semolina, so it has more flavour than regular couscous. Wholemeal varieties are available but will take longer to cook.
Preserved lemons are a staple of Moroccan cuisine. Whole lemons are pickled in salt and their own juices. You can buy them in specialty stores, but they are very easy to make yourself at home - see recipe here.
Dukkah is a mix of crushed nuts, sesame seeds and spices and is of Middle Eastern origin. You can source dukkah from your local supermarket, however, I would recommend having a go at making it yourself, as fresh is much nicer - see recipe here.
If you don't have access to pomegranates, you can substitute dried cranberries or chopped dried apricots.
Leftovers make for a tasty packed lunch.
Feel free to substitute other vegetables in this recipe. Sweet potato, for example, would work well.
Copyright © 2021 Thornleigh Seventh-day Adventist Church